Netanyahu tells Putin Israel to act against border violation attempts
Share - WeChat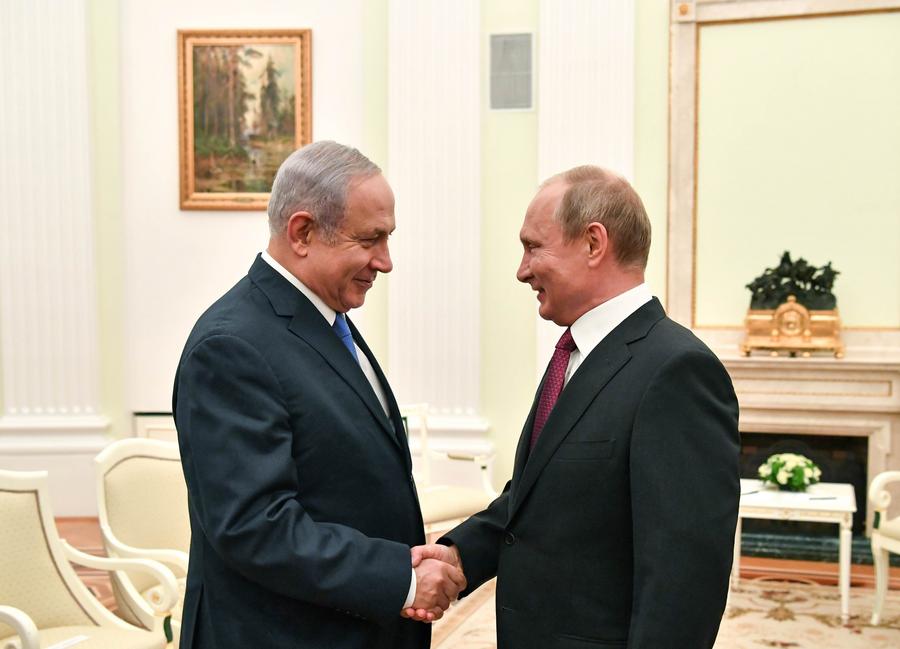 JERUSALEM - Israeli Prime Minister Benjamin Netanyahu met with Russian President Vladimir Putin in Moscow on Wednesday, telling the Russian leader that Israel will act firmly against anyone attempting to breach its borders.
The meeting in the Kremlin took place a few hours after a Syrian drone entered Israel's airspace. It was intercepted by a Patriot missile above the Sea of Galilee in northern Israel.
The incident highlighted the escalating tensions across the disputed border between Syria and Israel.
"Several hours ago, a Syrian UAV (Unmanned Aerial Vehicle) penetrated Israel's airspace," Netanyahu told Putin during remarks at the start of the meeting.
"We shot it down and we will continue to take strong action against any trickle of fire and any infiltration into Israel's airspace or territory," he warned.
The drone did not carry weapons and was designed to carry out a surveillance mission, the army said earlier.
The meeting focused on Iran's presence in Syria. "Our view that Iran needs to leave Syria is well-known; it is not new to you," Netanyahu told Putin.
He thanked Putin for "the opportunity to discuss these matters," and said that the "cooperation between us is a central component in preventing a conflagration and deterioration of these and other situations."
Israel and Russia have been coordinating their actions in the war-torn country.
Israel has warned it will open fire at any forces that Syrian President Bashar al-Assad's army would try to deploy in the demilitarized Golan Heights buffer zone, which was established as part of a 1974 UN-backed cease-fire agreement.