Starbucks to phase out plastic straws
Share - WeChat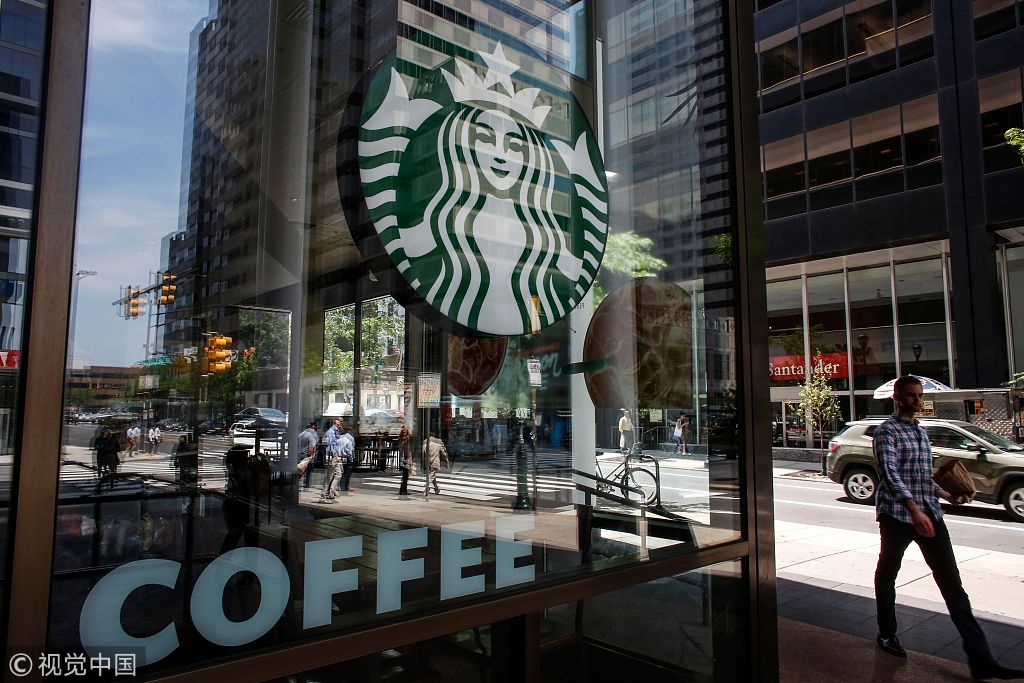 Starbucks announced on Monday that it will eliminate plastic straws from its 28,000-plus global stores by 2020. The move by the world's largest coffee house chain comes one week after its hometown of Seattle became the first major American city to ban plastic drinking straws and utensils.
Starbucks said it uses more than one billion single-use plastic straws a year. It is the largest US retailer to commit to eliminating them and is part of a no-plastic-straws movement that has gained momentum in recent years.
Starbucks also said the need for an alternative to plastic straws grew as the sales of cold beverages has risen to more than 50 percent of sales from 37 percent five years ago.
The CFO of Chinese-owned company that makes plastic straws at a plant near Allentown, Pennsylvania – Fuling Plastics USA – said last week that sales haven't fallen in the wake of Seattle's ban on single-use plastic straws and utensils.
"Our overall straw sales have not declined but are still growing slightly despite all the recent negativities," Gilbert Lee, CFO of Fuling Global Inc, said in an email.
He said that he doesn't think that paper straws are acceptable because they "won't last more than 30 minutes in liquid and will become soft and melt''.
Lee said that large volume users such as fast-food chains can't afford to use paper straws because the cost is four times that of plastic straws.
Nevertheless, Lee said that Fuling is increasing its production capacity for paper straws. "We will be ready when the market is ready," he added.
Lee said Fuling prefers using biodegradable plastic materials. "PLA (polylactic acid) straws function as good as regular plastic straws. (The) cost is two times that of PP (polypropylene) straws, or half of paper. It's more environmental friendly than paper straws because paper straws use more paper (trees) and contain glue and wax," he said.
"We believe plastic is still the best material for single-use food service ware because it's cheap, clean and safe. It can be recyclable if consumers and society work a little harder. We are developing programs to work with consumers of our products to collect the used plastic food service ware and reuse the materials in producing other plastic products such as furniture," said Lee.
McDonald's has said it would switch to paper straws in the UK and Ireland by next year and test alternatives to plastic straws in some US locations. In February, Dunkin' Donuts said it would eliminate polystyrene foam cups from its stores by 2020.
Environmental concerns were behind the Seattle prohibition, which went into effect on Sunday. Other cities, like Fort Myers Beach in Florida, have banned plastic straws, and similar proposals are being considered in New York and San Francisco.
According to the National Oceanic and Atmospheric Administration, each plastic straw takes about 200 years to break down. Because of their shape, straws are too small to be processed at recycling facilities and often end up in oceans. National Geographic reported that the US goes through roughly 500 million single-use plastic straws a day.
Seattle's ban outlaws the straws and utensils at "all food service businesses, including restaurants, grocery stores, delis, coffee shops, food trucks, and institutional cafeterias". Violators will be subject to a $250 fine.
Businesses can opt for straws and utensils made from more environmentally friendly materials such as paper, steel and bamboo. The city suggests that businesses provide those only upon request.
Hyatt Hotels on Monday announced that starting in September hotel visitors will have to request single-use plastic straw and drink picks, while eco-friendly alternatives will be provided where available. The Chicago-based company operates some 700 hotels in more than 50 countries.