Hand-pulled noodles make a splash in New York
Share - WeChat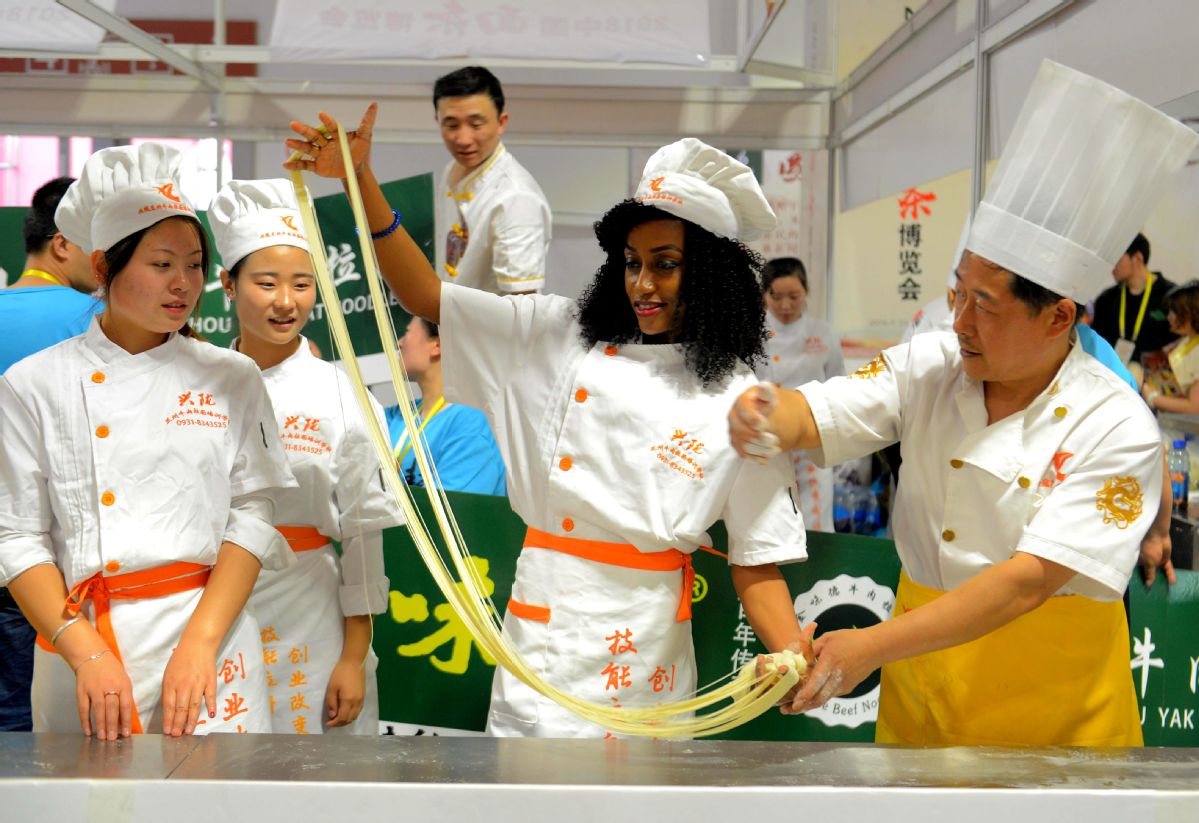 NEW YORK-Groups of men regularly gather at the gate of a small noodle shop at noon in midtown Manhattan, chatting about office affairs while waiting for mouthwatering hand-pulled Chinese noodles to be served.
Like many white-collar workers in New York City trying to survive another day of stress at work, they visit Tasty Hand-pulled Noodles II, located on 9th Avenue, for a bowl of spicy and delicious noodles.
At this simply decorated but locally revered restaurant, set up by Liu Haokun, diners can find a wide spectrum of dishes. There are 25 varieties of noodle soups alone, with vegetable and egg noodle soup served with choice of broth and noodles, the top choice at $8.50 per bowl.
"I personally recommend the beef noodle soup with knife-cut noodles, pan-fried noodles with fat noodles, or any of their dumplings," wrote Kevin C. from New York on www.yelp.com.
The restaurant's chef has five ways to shape flour noodles: regular hand-pulled, fat hand-pulled, small wide hand-pulled, big wide hand-pulled and knife-cut. Regular or skinny rice noodles and potato glass noodles are also available, for those who prefer something softer.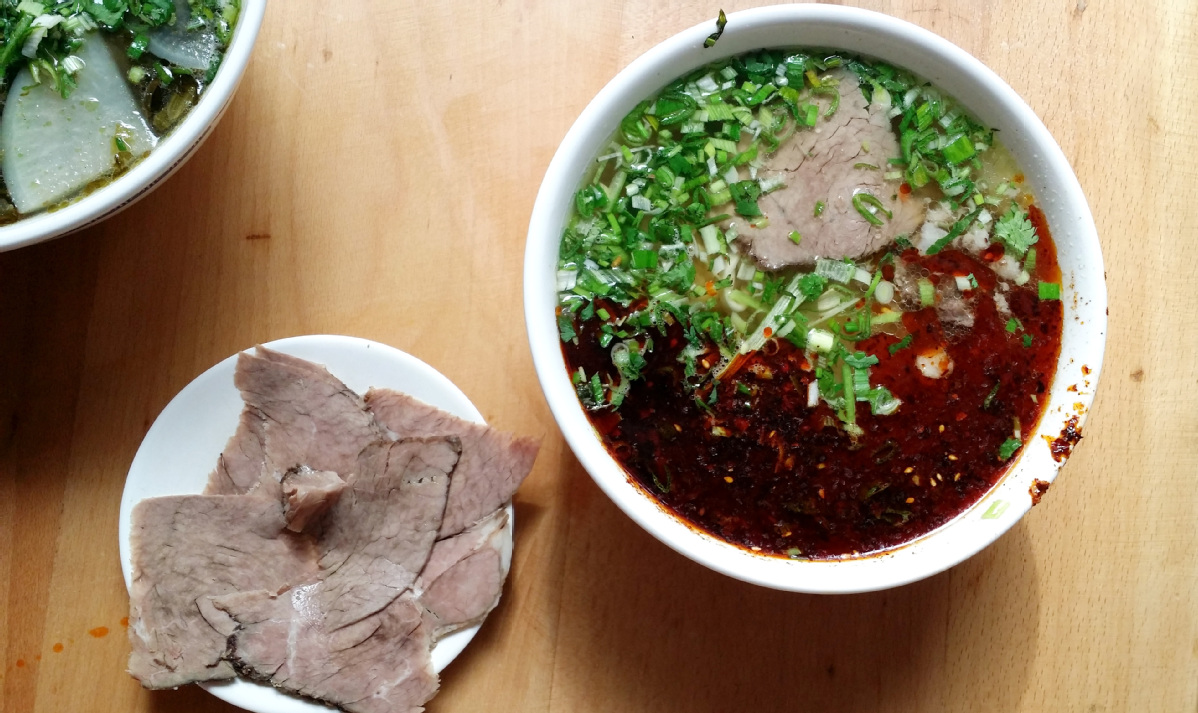 "These knife-cut noodles have awesome texture. To some extent, it almost doesn't matter what things accompany the noodles. I am happy chewing away at the wide ribbons," said Jennifer Che on www.tinyurbankitchen.com.
Hand-pulled noodles have become something of a craze in the Big Apple with dining spots appearing one after another.
They are usually tucked away in small side streets-typically hole-in-the-wall venues in Chinatown with colorful signs beckoning customers into cramped eating spaces with simple wooden tables and pictures of dishes on the walls, as Che, who has her own cooking, eating and travel site, said in a web post.
Liu Haokun was born in the 1990s in China's northwestern Gansu province, where hand-pulled noodles originated and their status in the culinary industry has been maintained for generations.
After graduation from New York University, recognizing the growing popularity of hand-pulled noodles, Liu returned to Gansu for six months to learn how to make them by hand. Back in New York City, he opened his own noodle restaurant, where he made $8,000 to $10,000 a day selling bowls of noodles for $8 to $15. Currently, he is considering opening more branches to maximize income and profits.
"It's already China's No 1 dish, and I want to make it No 1 in the world," Liu said.
Earlier this month, China News Service quoted Roy Ying, president of the New York-based US-China Sister City Association, as saying that he planned to open three hand-pulled noodle restaurants in 2018 in the United States, Canada and Mexico.
He made the decision after paying a visit to Lanzhou, capital city of Gansu, where he met with noodle-making experts and key figures in the catering industry.
He set a target to open 10 more Chinese noodle dining spots in 2019 and ultimately extend the franchise to 100 branches.
"Let North Americans learn about China through noodles," Ying said.
Hand-pulled noodles are called lamian in Chinese. They are made by twisting, stretching and folding dough into strands, using the weight of the dough. The length and thickness of the strands depend on the number of times the dough is folded.
This unique method of making noodles dates back to 1504, according to Chinese records.
In the Lanzhou style, the dough is worked aggressively. It is pulled in straight, quick tugs with no twisting or waving. Some pullers regularly slam the noodles against their prep boards to ensure even stretching and uniform thickness. Flour is sometimes used to dust the strands and prevent sticking.
Small restaurants serving Lanzhou-style lamian are common throughout western China, where they have formed the staple diet for centuries, as well as eastern Chinese cities. Restaurants tend to serve a variety of low-cost meals for everyday consumption.
In New York, there are about 10 hand-pulled noodles restaurants registered on the giant online business listing and food ordering website www.yelp.com. Several more mention handmade noodles and dozens more have "noodles" in their names, not to mention the hundreds more that sell noodles but don't specify that they do.
Surfing YouTube, you can find about 51,900 results for "hand-pulled noodles". Adding "New York" to your search leads to 19,200 results.
The proliferation of dining spots dedicated to hand-pulled noodles highlights New Yorkers' appetite for the delicacy.
"How do you know if you are eating real hand-pulled noodles?" Che asked in her article chronicling her experience at Tasty Hand-pulled Noodles II.
"You'll have a lot of trouble cutting your noodles in half. After all, hand-pulled noodles derive from one long noodle that gets pulled and doubled over and over again," Che said.