Why Chinese students are flocking to Britain for holiday learning
Share - WeChat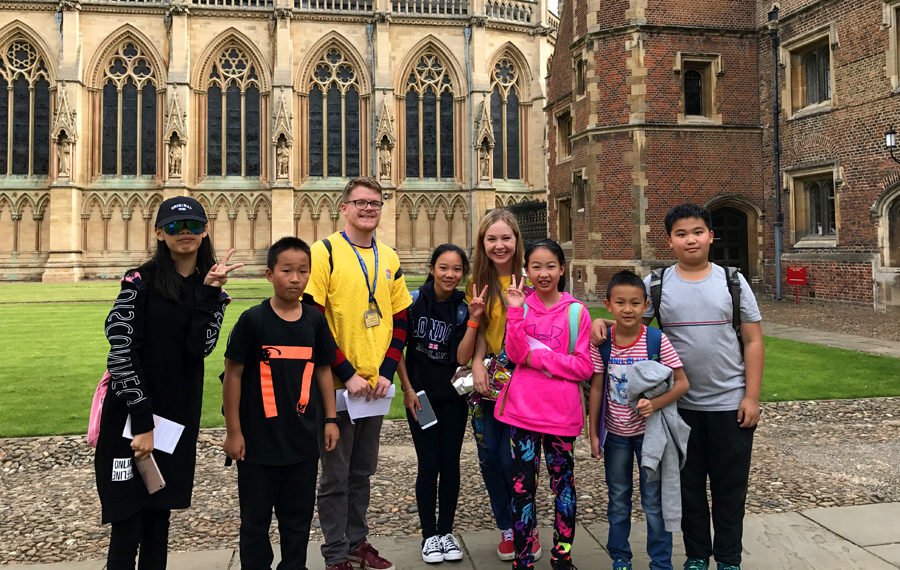 On a warm summer day in the peaceful English university city of Cambridge, a group of teenage Chinese students was hosting a charity barbeque lunch to raise funds for the East Anglia Children's Hospice.
Big smiles appeared on their faces as they saw weeks of preparation turn into a meaningful and enjoyable gathering, which also raised more than 1,000 pounds ($1,300) for the charity they got together to support.
The scene took place in August last year at a summer camp hosted by the Cambridge Centre for Languages. The program, spanning about a month, offered students intensive training in English and understanding of British culture. Daily academic lessons were balanced with fun activities including dancing, singing, sports and weekend trips to well-known British attractions.
"We craft the program to give students an authentic glimpse into quintessential British culture, which is rich in history, arts, literature, technology and a lot more," said Laura Chen, principal of the centre.
For Chinese students, such experience-based summer camps are a welcome break from their heavy academic burden and exam results-driven classes at home. Many are also, for the first time, encountering tasks that enhance social skills, creativity and teamwork. Organizing a charity lunch is one such example.
Many Chinese students are away from home for the first time, and the experience of taking care of their own schedules, food, laundry and other life requirements in an unfamiliar country while also being in a foreign-language environment is quite a coming-of-age experience.
"The kids come home transformed," said Qian Jingjing, head teacher of the Wuhan Foreign Languages School in Hubei province, which sends secondary school children to Britain, the United States, Japan, France and Germany every year.
"Ninety percent of parents tell us that their children become more grateful for their parents' love and care. They realize that no matter how much their homestay parents love them, it is only their own parents who would bother to cook them a bowl of egg noodles in the middle of the night when they say they are hungry," Qian said.
In recent years, overseas summer study camps have become very popular among Chinese students. In July and August, crowds of Chinese students gather at popular tourist attractions, including the British Museum, the Tower of London, the Palace of Westminster and the Globe Theatre.
Such a trend is perhaps not surprising considering that the UK and US are the two most popular summer camp destinations, together hosting about 60 percent of outbound Chinese students, according to estimates by New Oriental Education & Technology Group.