US' hegemonic pursuit bad for world economy
Share - WeChat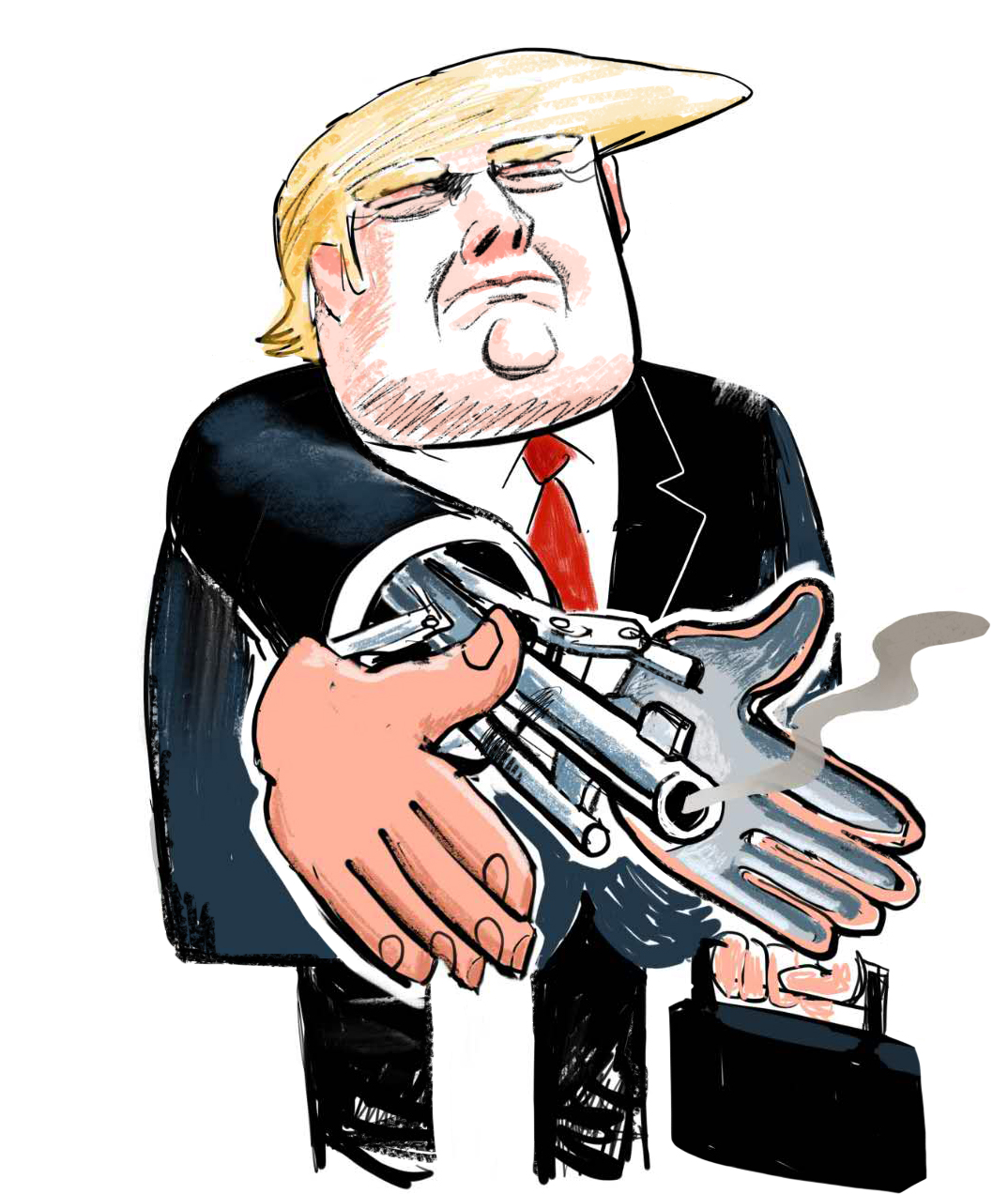 China has no intention of waging a trade war with any country, nor has it ever fired the "first shot" in a trade dispute that led to a trade war, as it knows there is no winner in a trade war.
Once a trade war starts between the United States and China, the world's two largest economies, the biggest losers will be the two countries, but the rest of the world will suffer too.
However, there are three US officials who think otherwise. They believe maintaining the absolute hegemony of the US and pursuing personal gains outweigh the wisdom of US businesses and public, and the well-being of the world.
Since Donald Trump entered the White House, there have been factional feuds and policy chaos within his administration. For example, on trade with China, there are both hardliners such as Trade Representative Robert Lighthizer and Peter Navarro, director of the White House National Trade Council, and moderate figures such as Secretary of Treasury Steven Mnuchin and Commerce Secretary Wilbur Ross.
After several rounds of power wrangling, hardliners in the White House seemed to have gained the upper hand, with Trump, Lighthizer and Navarro forming an "iron triangle", whose aim is to impose high tariffs on US trade partners, especially China, which they wrongly believe have gained unfair benefits from trade with the US.
As a businessman-turned-politician, Trump claimed during his presidential campaign that China had stolen jobs from the US and vowed to take them back for Americans. Since taking office, Trump has taken a series of policy measures to fulfill his campaign commitment, ostensibly to curry favor with voters, consolidate his advantages in the midterm elections in November, and pave the way for his re-election. To achieve these purposes, he has ensured all previous US policies are subordinated to his personal ideas, nay whims.
China has become Trump's main target because he believes his expert skills and tactics in business and trade may help him realize his "make America great again" dream. And to push his agenda forward, Trump looked for like-minded officials for important posts. And Lighthizer, known as the US' trade tsar, and Navarro, a fabricator of the "China threat" theory fitted the bill perfectly.
Lighthizer is the chief designer of the investigations under Section 301 of the US Trade Act of 1974 and has participated in more than 20 international trade talks on steel, cars and agricultural products. He is best known for his leading role in US efforts to force Japan into signing the "Plaza Accord" in 1985. As early as 1999, Lighthizer publicly declared China's entry into the World Trade Organization was a threat to the US and accused Washington of backing down on trade issues. He has been at the forefront of trade frictions with China, and is never satisfied with any intended agreement reached with China to strike a balance in bilateral trade. Instead, he wants to put more pressure on China to carry out "structural reform" in an attempt to change China's development path.
As for Navarro, he had never visited China before this year. He focused on electricity and energy in his early years, but this did not prevent him from becoming a second-hand materials expert, cobbling together the "China threat" theory and a few books identifying China as an "imaginary enemy". He has never let go a single opportunity to launch a verbal attack on China using his so-called experience of working with several US agencies. Eventually, he caught the attention of Trump, and was appointed as one of his main policy advisers.
As a staunch supporter of populism and protectionism, the "iron triangle" in the White House suffers from zero-sum mentality and is determined to maintain US hegemony. However, the triumvirate doesn't know much about China and thus has an obsessive bias against the country.
To begin with, Trump has no experience of a trade war, and he would be overestimating his capability if he believed China could be subdued by using some business deals and extreme pressure. Lighthizer did achieve success in dealing with Japan in the 1980s, but China today is not what Japan was in 1985, and the strategy and tactics that proved effective against Japan decades ago will simply not work against China. And the theory Navarro has cooked up to deal with "China's economic aggression" may seem potent, but only on paper.
US citizens just celebrated Independence Day on July 4. Ironically, though, after more than two centuries of development, the free trade and open policies pursued by US statesmen in the past have been overturned by the Trump administration. The traditional values that made the founding fathers of the US proud are being upended and shelved by the "iron triangle".
There is little doubt the US is drifting toward isolationism. Some say the US is on the decline. But who is to blame?
US leaders, of course.
This article was originally published in CRIonline
Most Viewed in 24 Hours
China Views