New era for China-Africa media links
Share - WeChat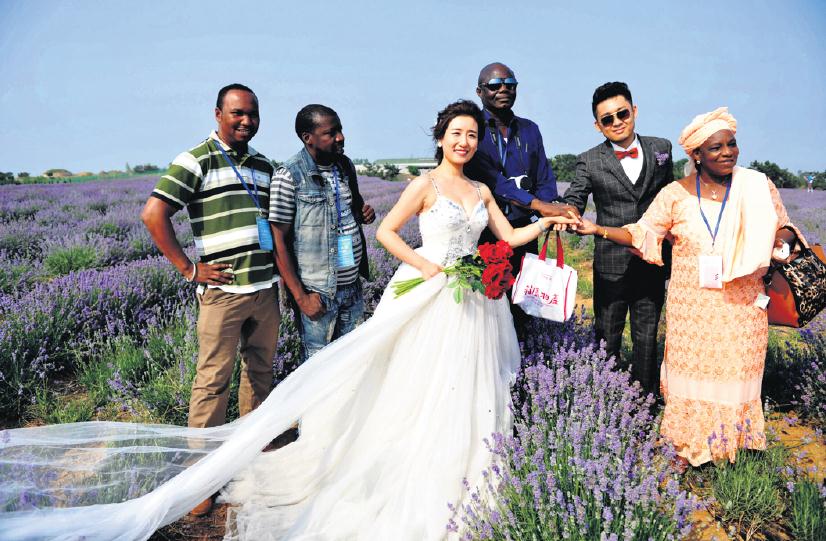 China-Africa cooperation has entered a new golden era, according to Nie Chenxi, director of the State Administration of Radio and Television.
Nie was addressing an audience in Beijing on June 26 during the fourth Forum on China-Africa Media Cooperation, where twelve new cooperative agreements were signed.
Around 400 government officials and heads of media organizations from 44 African countries attended the forum.
The years since the first forum, which took place in Beijing in 2012, have witnessed a great deal of progress in China-Africa media cooperation in terms of policy dialogue, industrial development, personnel training and international multilateral cooperation.
Earlier in June, the Chinese government and Kenya's Ministry of Information Communication and Technology started a project that aims to bring satellite television services to 800 villages across 47 counties in Kenya.
Around 16,000 individual households will be connected through the project, each via a satellite dish, a high-definition set-top box and other accessories.
At the same time, the villages will be equipped with solar-powered satellite projector TV systems and 32-inch television sets in 2,400 public institutions for free.
Another project that covers 500 villages in Zambia was rolled out on June 25. Dora Siliya, Zambia's minister of information and broadcasting services, said during the forum on June 26 that many Zambian children have been able to watch TV shows for the first time.
This was made possible due to a program announced by President Xi Jinping during the 2015 Johannesburg Summit of the Forum on China-Africa Cooperation in South Africa. Xi said that China would implement projects to give access to satellite TV stations for 10,000 African villages.
According to Guo Ziqi, vice-president of StarTimes Ltd, a Chinese digital TV service provider that has been charged with implementing the program, the new service will cover a total of 10,112 villages in 25 African countries and will be completed by the end of the year.
In addition, Siliya said that with China's support Zambia has managed to achieve an 85-percent shift in the process of digital migration, which will see the nation move from analogue broadcasting to digital services.
She said Zambia would be able to achieve universal broadcasting coverage across the entire country for the first time by December 2019 when the process is completed. "Our relationship with China is extremely significant, because we're talking about results," Siliya said.
Yakubu Ibn Mohammed, director general of the Nigeria Television Authority, said that the process of digital migration is steadily advancing in the country. "It will bring consumers a diverse range of programming across multiple channels. For example, viewers in our capital, Abuja, will have access to 30 channels," he said.
During the 2015 Johannesburg FOCAC summit, Xi also outlined an initiative that will see China provide training for 1,000 media professionals from Africa every year for the following three years.
Currently 29 media professionals from 28 African countries are participating in a 10-month training scheme organized by the China-Africa Press Center under the China Public Diplomacy Association, which will allow participants to gain firsthand experience of China and its media landscape. Some members have already been given the chance to cover major media events in China, such as the two sessions in March.
Nigerian journalist Solomon Elusoji said that he had completed 13 news assignments in the fields of politics, economics, culture and travel since coming to China in February and the experience has helped him decide to become a specialist on China.
According to Leo Boruett, deputy director general of Kenya Communications Administration, five Kenyan reporters who are currently taking part in a three-week training program in China were involved in covering the forum.
As well as studying the history and development of China's radio and television industry, the reporters are developing their operational skills and professional knowledge. The short training program will also include visits to major Chinese radio and television stations.
African countries are still in need of facilities, funds, expertise and most importantly, quality content, according to Gregoire Ndjaka, chief executive officer of the African Union of Broadcasting.
But the exchanges and cooperation between China and Africa in the fields of film and television are steadily helping to improve the situation.
The China Media Group is applying to join the membership of AUB, while tailored programs such as Africa Live and Faces of Africa produced by CGTN Africa (which was founded in 2012 as CCTV Africa) have been well received.
At the same time, Chinese films and TV series have been introduced to more than 40 African countries. Last year, 17 films and 400 TV show episodes in seven languages-including French, Portuguese and local languages-were aired across 20 African countries as part of the Beijing TV Dramas Broadcasting Exhibition in Africa, according to Du Feijin, head of the publicity department of the Beijing committee of the Communist Party of China.
Du said that Beijing enterprises and institutions dubbed around 8,000 hours and translated more than 10,000 hours of Chinese films and TV series in 2017. Swahili and Hausa language dubbing contests for Chinese movies and TV series were also held.
"The themes of love, kindness and warmth conveyed by Chinese TV shows are part of a universal language that resonates with African audiences," says Wang Liping, the scriptwriter behind A Beautiful Daughter-in-law Era, which was translated into Swahili and welcomed by audiences in Tanzania and Kenya in 2011.
Another of her works featuring a young courting couple is currently being translated and will soon be broadcast to African audiences.
And according to Fu Ruoqing, president of the Huaxia Film Distribution, the company is planning to cooperate with its African counterparts by investing in the development of cinemas overseas, by backing new coproductions, and by investing in foreign cinema circuits.
Fu said that the company also initiated The Belt and Road Cinema Circuit Community to promote the integration of film distribution networks across the region and develop cooperation mechanisms.
Contact the writer at fangaiqing@chinadaily.com.cn
Most Popular