In the battle for the big time, spirit counts for everything
Share - WeChat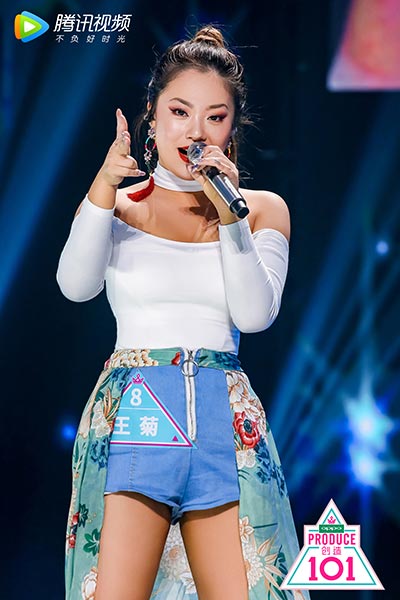 In the depths of the production studios, where the online reality talent competition Produce 101 is being filmed, a bright pink rehearsal room lies at the end of a corridor marked with a large letter "A".
The room holds huge significance for the show's finalists, who have pushed themselves to their creative limits over the past three months to earn their chance to join an 11-member girl band.
Wang Ju is no exception.
Once on the verge of being knocked out of the show, the 25-year-old Shanghai native fought her way to the A list within the space of just four weeks due to her popularity.
Considered to be lacking conventional good looks, Wang's existence in the show initially seemed untenable. Slightly plump, somewhat tanned and seen often with heavy makeup, the straight-talking performer seemed out of place in the sea of slim peers with lighter skin who sported saccharine smiles. Worse still, some viewers simply regarded her as a laughingstock, despite her capable performances.
When Ma Dong-a well-known host and guest on the show-visited the studios, Wang asked him why it was easier for pretty girls to be remembered and liked by audiences.
Ma responded by encouraging her to find her own style and stick to it, and added that in an all-female group it was the singers who stood out the most that were most in demand.
"Actually, I knew what he would say. I just wanted a celebrity like Ma to spell out the answer rather than it coming from me-which made it far more convincing," Wang says, showing her eagerness to change the public's attitude toward her.
As time went by, people found that the spirited young woman with her own criteria of beauty was strong enough to face all the jeers. In one of her performances, she sang out the motto of her alma mater, Shanghai No 3 Girls' High School: "Independence, ability, care and elegance", to make the point that these were the most important attributes for a woman.