US farmers dread 'ifs' of tariffs
Share - WeChat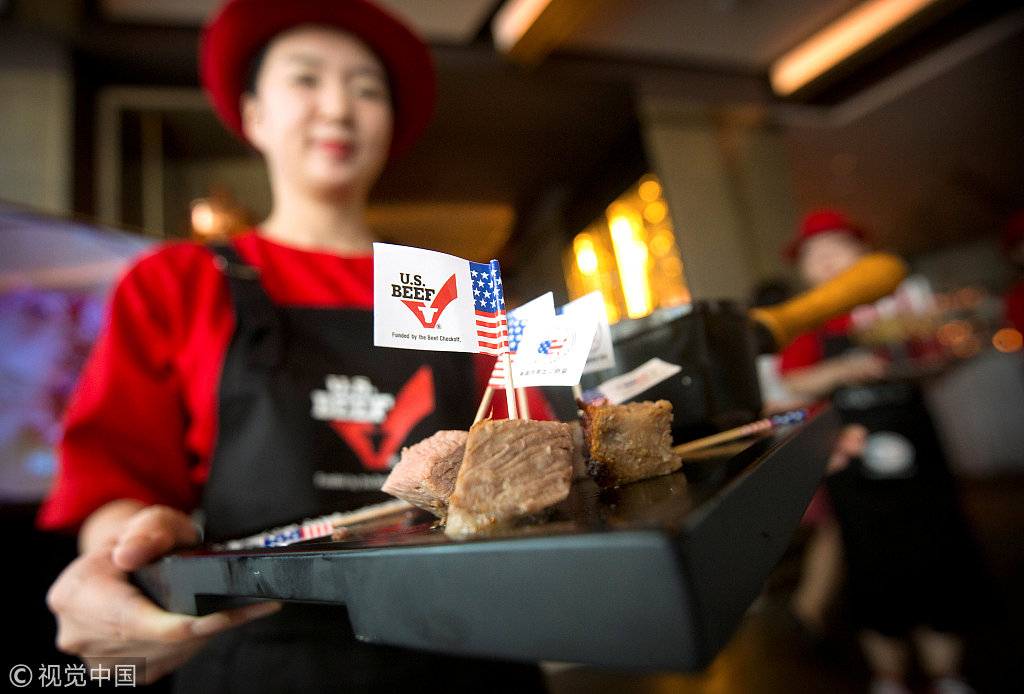 As of April, US exports of pork to China at close to $98 million had grown four percent by volume and 14 percent by value, according to the US Meat Export Federation. That growth trend might get reversed, however.
In response to US President Donald Trump's announcement of 25 percent tariffs on an estimated $50 billion worth of Chinese goods on June 15, China announced that it's ready to levy a 25 percent tariff on $34 billion in American goods, including pork, beef and fish.
For US farmers such as Dave Struthers in Collins, Iowa, this is just like déjà vu all over again.
As recently as late May, the Trump administration had put a hold on punitive tariffs on up to $150 billion in Chinese products. In response, China called off tariffs on US products, including pork and other meats.
Then, in less than a month, the Trump administration started to impose tariffs again. Consequentially, potential tariffs on meat are back on the table, again.
The tariff sparring makes farmers like Struthers feel anxious.
"It gives me a lot of uncertainty as to what the future may hold, because we have never been quite in a situation like this before," Struthers told China Daily on Monday. "We know about supply and demand but we have never dealt with tariffs and what it would do to our businesses."
Struthers produces crops in addition to selling about 5,500 pigs a year. "We already had the price [of pork] go down because of concern over the tariff. Do we continue to raise pigs or do we try to do something else? There are a lot of ifs we don't have answers for. We don't have a clue," he said.
Struthers said that people are going to be hurt by the tariffs. He feels that farmers are basically used as pawns in a big chess game.
"I don't' know if this [strategy] is right or wrong, I just don't like the fact that we are just doing our business and we suddenly get hurt because they choose us," he said.
Crops are looking good for this year across the US, prices are dropping, and it lowers the cost for feed, said Struthers. "But it hurt grain farmers which I am also. It's rough."
He felt that there is not much he could do other than let the US government know that the majority of Iowa farmers who mostly voted for Trump are not happy. "We want the government to get the deal done so we don't have to suffer," Struthers said.
Tariffs are not good for business, and any kind of tariff will have a negative effect on agriculture in general, said Missy Bonds, a cattle rancher in Saginaw, Texas.
Due to the little amount of beef exported to China right now, Bonds said she's not worried that the tariff on beef will have much impact. However, the tariff on pork will.
"Less pork to China will cause more pork to be available here. It's a competitive meat against beef. Tariffs will lower the price here and hurt beef consumption," Bonds said.
As a cattle rancher, Bonds said she is against any trade war because agriculture is always the loser in one.
"Hopefully all trade barriers, be it tariff or non-scientific based testing, will be removed for the future. Hopefully we can export more of our products, which are safe and healthy and great for the Chinese people," Bonds said.