Alibaba to help cultivate and sell saline soil rice
Share - WeChat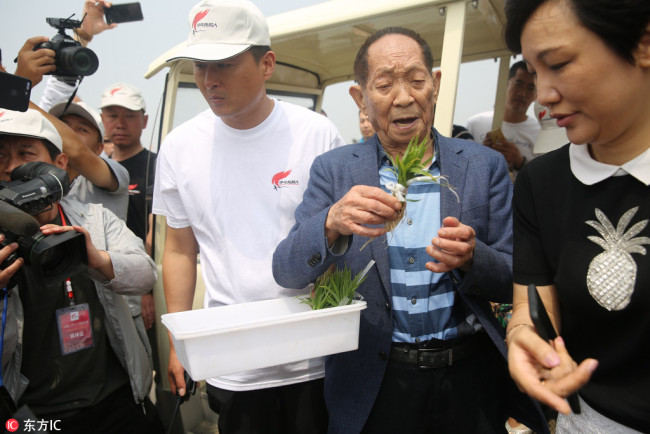 BEIJING - Alibaba has pledged to cooperate with a saline soil rice research and development (R&D) team to increase production and farmers' incomes, according to Thursday's Beijing Youth Daily.
The saline soil rice R&D team of Yuan Longping, China's "father of hybrid rice," will be supported by Alibaba in retail and big data.
The saline soil rice will be cultivated on a large scale with the cooperation of Yuan's team and Alibaba, vice president of the e-commerce giant Wang Jianxun told the newspaper. And Alibaba will help explore the sale of saline soil rice.
There are over 99 million hectares of alkaline land in China, which is 10 percent of the world's total.
Cultivating the saline soil rice could both increase the country's grain yield and help farmers shake off poverty, the newspaper said.
Yuan Longping, 88, said that if 6.7 million hectares of saline land could be used to grow saline-alkali tolerant rice, the country could produce an extra 30 billion kilograms of rice.
The yield of 30 billion kg a year is enough to feed 80 million people.
Yuan began theoretical research of hybrid rice 50 years ago. His hybrid rice development has greatly enhanced China's rice yields and contributed to ensuring the country's food security, as about 65 percent of Chinese people depend on rice as a staple food.
In north China's Hebei province last year, Yuan's experimental fields achieved a yield of 17.2 metric tons per hectare.