CRRC unit delivers 160 km/h maglev train for commuters
Share - WeChat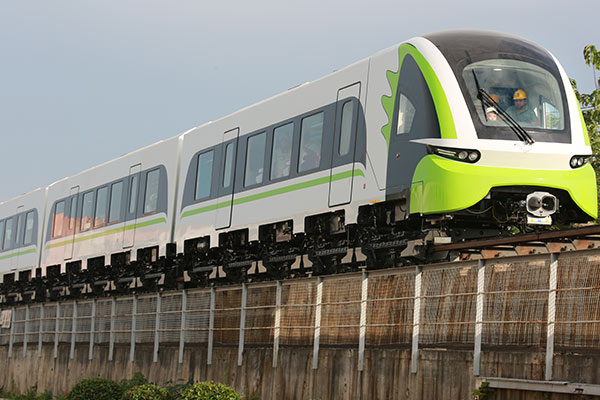 China's first self-developed 160 kilometer-an-hour magnetic levitation train rolled off the production line, as a family of maglev products gradually emerges in the nation.
This type of maglev train, suitable for commuting between urban areas and satellite towns, was delivered on Tuesday by CRRC Zhuzhou Locomotive Co Ltd, based in Central China's Hunan province.
To facilitate intercity commuting, the company expects to deliver 200 km/h medium-speed maglev trains by the end of 2019, said Tong Laisheng, director of the maglev institute of CRRC ZELC.
Since 2016, the company's 100 km/h maglev rail line, designed mainly for urban transport, has been operating safely and smoothly for 1.7 million kilometers, Tong said at the launch ceremony.
Maglev trains are considered safer and cheaper than constructing traditional metro and light rail systems.
The maglev hovers several centimeters above the tracks. It is propelled by electrically charged magnets, and uses specially designed tracks to keep the trains from overturning or derailing.
"China has mastered the core technologies of commercial maglev trains, and has established a comprehensive system ranging from technical research and manufacturing to commercial operations," said Liu Youmei, an academician of the Chinese Academy of Engineering.
"So far, the self-developed maglev technology has been commercialized in a host of train types," Liu said. "The production of maglev trains requires over 10,000 parts and components, 90 percent of which can be produced in Hunan province."
CRRC ZELC is a key subsidiary under China Railway Rolling Stock Corp, the nation's largest research and manufacturing base of electric locomotives.
For years, the railway major has been going full steam ahead on studying different types of maglev trains, in a bid to help cut travel times in an efficient manner.
Zhou Qinghe, chairman of CRRC ZELC, said: "The company has been fueling continuing innovation to promote the technological level of China's maglev products. It is aiming to provide global clients with green, environmentally-friendly and intelligent solutions for transportation system."
There are concerns about the cost of constructing the infrastructure for a commercial maglev service, as some maglev train lines, reportedly, ran beyond budget.
Zhao Jian, a professor at the School of Economics and Management at Beijing Jiaotong University, said operators need to estimate an appropriate passenger flow volume, which is normally smaller than that of the subway, and they should ensure the trains operate at a reasonable frequency.
Back in 2002, the world's first maglev line was launched in China, providing a link between a metro station and Pudong International Airport in Shanghai.
The 30-km journey takes less than eight minutes, as the train has a speed of up to 430 km/h.