China sticks to tight property market regulation
Share - WeChat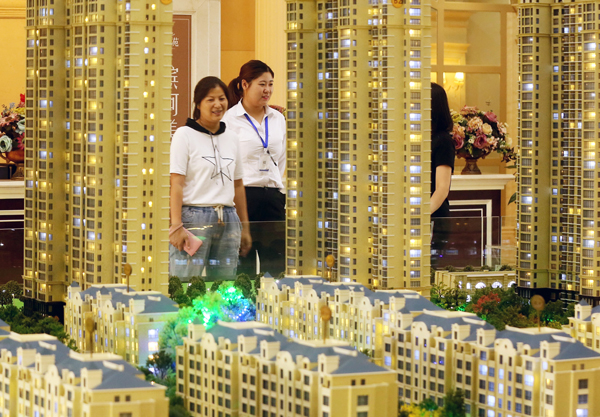 BEIJING - With a flurry of recent property market controls, Chinese authorities have demonstrated their will to keep a lid on housing prices, not just in metropolises but also in smaller cities.
Over 40 cities unveiled property market regulations a total of 50 times in May, a monthly record for frequency, according to the latest statistics from Centaline Property.
While home prices in the country's top-tier cities remain stable due to tight regulation, the market in smaller cities has showed signs of perking up.
In third-tier cities, month-on-month new home price growth accelerated by 0.2 percentage points in April from March, and that for second-hand homes was 0.1 percentage point faster, official data showed.
"The housing price fluctuations in third-tier and fourth-tier cities were the major reason behind the intensive regulation," said Centaline Property analyst Zhang Dawei.
Until recent months, China's property curbs had focused on big cities, while authorities in smaller cities, mostly troubled by a large number of unsold houses, had been trying to encourage sales.
With the market warming in lower-tier cities, local governments have rolled out stricter restrictions on home purchases and sales, presale pricing and mortgage ratios, while supporting the development of rental housing. Some have adopted a lottery-like registration system for buying homes.
In late April and early May, the Ministry of Housing and Urban-Rural Development, the country's top property regulator, arranged talks with senior government officials from 12 cities, mostly in the northeast and central China, on real estate market regulation.
Many of these cities, including Hefei, Foshan, Harbin, Chengdu and Taiyuan, released stricter property market policies after the talks.
Local governments should stick to real estate market management goals and not loosen regulatory measures, the ministry said in a statement last month, citing notices of market speculation in some cities.
Chuancai Securities attributed the home price rises in lower-tier cities to government programs to transform shanty town areas. Residents living in these areas are usually given money in compensation for moving out and have greater purchasing power for new houses.
Meanwhile, many local governments in third- and fourth-tier cities have adopted preferential policies, including housing subsidies, to attract talent.
"The policies to appeal to talent have increased demand for home purchases, resulting in a supply strain that has led to expectations for higher home prices," said Zhang.
The latest round of market tightening has had an effect on the smaller cities.
In May, of 18 third- and fourth-tier cities monitored, the seven cities with relatively tougher regulation saw new home sales fall 2 percent by floor area from March, while the 11 cities with mild regulation or none saw sales surge 20 percent, according to a report by E-house China R&D Institute.
Analysts believe authorities will continue their differentiated approach to property market regulation with more curbs in cities where housing prices have grown significantly.
"The housing purchase lottery system could be adopted by another 20 cities or more in future," said Zhang.
Wang Yeqiang, a researcher with the Chinese Academy of Social Sciences, predicted that the real estate market of third- and fourth-tier cities would cool in the second half of this year as local governments gradually tighten regulation.