A glass half full
Share - WeChat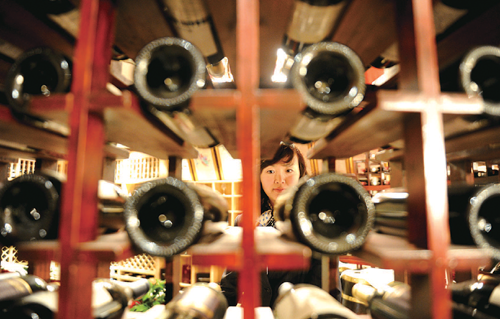 China's wine market is set to become the world's second largest in 2021 and experts say that the key to seizing a share of the sector is appealing to the adventurous young consumers who are driving this phenomenal growth
Located in Roussillon, a Catalan region in southern France that borders Spain, the famous Domaine de Rombeau winery is surrounded by rolling mountains and the Mediterranean Sea.
Averaging 2,500 hours of sunshine and no more than 600 millimeters of rainfall every year, the region's terroir allows the vineyard, which dates back to the early 18th century, to produce a variety of grapes with a remarkably high level of sweetness. The result is an exquisite wine that tastes similar to sherry and is well-received by consumers. Philippe Raspaud, the sixth-generation owner of the historic winery, calls this le gout du soleil, which means "the taste of the sun".
The wines produced in Roussillon account for 80 percent of the total in France, but Raspaud wants a larger share of the global market. China, he said, is key to achieving that goal.
"We want to sell to China because, in today's world, you simply cannot be absent from this market if you want to be qualified as a global brand," said the 35-year-old, who was in Shanghai before he participated in the 98th China Food and Drink Fair in Chengdu, Sichuan province.
"We see a huge gap between cheap supermarket offerings mostly dominated by domestic wine producers and super expensive offerings from regions such as Bordeaux, which even we French do not drink very often. No one has filled this gap for a decade," he added.
As the country's largest and oldest exhibition in the food and beverage industry, the trade fair has attracted upwards of 3,000 exhibitors and 150,000 professional visitors this year. It is expected to consolidate 20 billion yuan ($3.18 billion) in transactions this year, half of which would be from the alcohol segment that includes wine, beer, liquor and Chinese baijiu.
Most Popular