New cirque du soleil show to open in Aug
Share - WeChat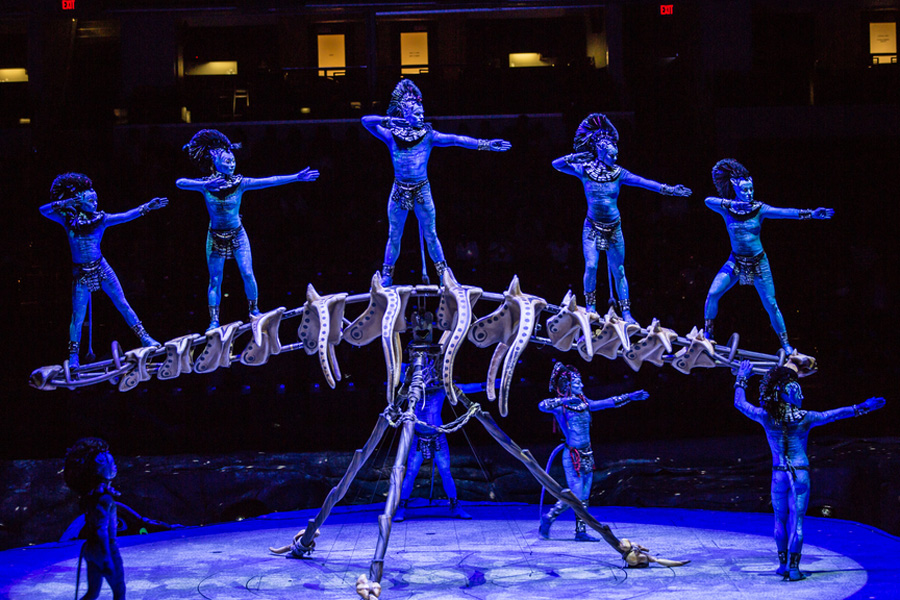 The Montreal-based circus and entertainment company's Avatar-inspired acrobatics performance is set to debut in Beijing and Shanghai, Chen Nan reports
This August, Cirque du Soleil's Toruk-The First Flight will debut in Beijing's Cadillac Arena and Shanghai's Mercedes-Benz Arena following its run from February to May in the Atlantis Resort in Sanya, Hainan province.
The show in Beijing will take place from Aug 1 to 12. The Shanghai leg runs from Aug 16 to 26.
Fosun International Ltd, a leading investment company in China which developed the resort, was responsible for bringing the show to the cities. The conglomerate also has its hands in the Montreal-based circus and entertainment company, having acquired a 20 percent stake in 2015.
Inspired by James Cameron's movie Avatar, Toruk-The First Flight premiered in December 2015. During the past two and half years, it has toured more than 60 cities in over 11 countries and regions, including New York, Los Angeles and Sydney. The production marks the first time that Cirque du Soleil has created a show based on a movie. The show also features a collaboration between Cirque du Soleil and Lightstorm Entertainment, which is Cameron's production company.
Avatar grossed nearly $2.8 billion across box offices worldwide and won three Academy Awards, including Best Art Direction, Best Cinematography and Best Visual Effects. When the movie was released on the Chinese mainland in 2010, it raked in 1.3 billion yuan.
According to Michael Veilleux, company manager of the show, Toruk-The First Flight is set 3,000 years before the events depicted in the movie, in a time when humans have yet to set foot on Pandora.
"Our relationship with James Cameron began with my visit to his Avatar cutting room," said Daniel Lamarre, president and chief executive of Cirque du Soleil, in an early interview.
The company has collaborated with Cameron before on the 2012 movie Cirque du Soleil: Worlds Away, a 3-D feature that included acts from some of the company's most popular live productions. Toruk-The First Flight is considered one of the largest productions in the world. Veilleux says that four Boeing 747 planes are needed to transport the entire set of the show during its world tour.
Like the movie, which featured groundbreaking visual effects, the show offers a visual feast with a huge screen the size of five Imax screens, over 40 projectors, and large-scale puppets.