Taking the time to make a fresh start
Share - WeChat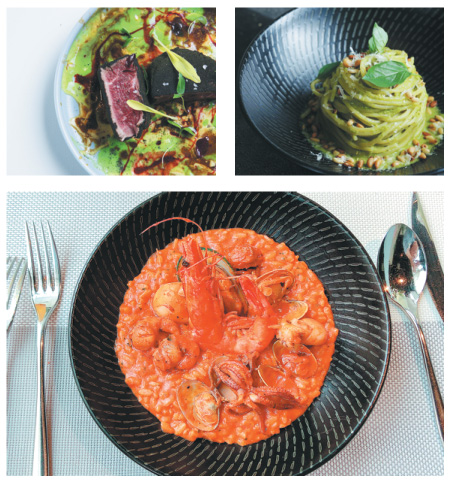 Born and raised in Italy, 24-year-old Yang Qiying has worked for several Michelin-starred restaurants in the famed culinary country over the past six years, including Osteria Francescana, which was named as the planet's top eatery by the World's 50 Best Restaurants in 2016.
Yang moved to China at the end of that year, bringing with him all the skills he had accumulated over the years since he became interested in cooking at the tender age of 12. He was appointed executive chef of Italian cuisine at the Grand Hyatt Beijing and was the youngest senior chef ever to be hired by the hotel.
Last year, a new Italian restaurant, Simply Fresh, offered Yang the chance to head their kitchen and create his own menu to showcase his talent for creating Italian food with a modern twist - and Yang jumped at the opportunity.
"I have much more freedom when I'm creating new dishes," says Yang.
Adjacent to Guomao, Simply Fresh occupies a bright space on the second floor of China Overseas Plaza in Beijing's central business district. With key color tones of white, light gray and black, half of the restaurant's bespoke wooden tables face the dramatic floor-to-ceiling windows.
The owner of Simply Fresh, Xiong Jing, set out from the very beginning to give her customers a place where they could sit down with family and friends and just enjoy the food. "I want people to feel cozy and relaxed as they savor their meal," says Xiong.
Large, leafy plants lend a peaceful ambience to the informal minimalist space, while the floral centerpieces placed on each table add a further soft touch.
Most Popular