BMW promotes road safety education for kids in schools
Share - WeChat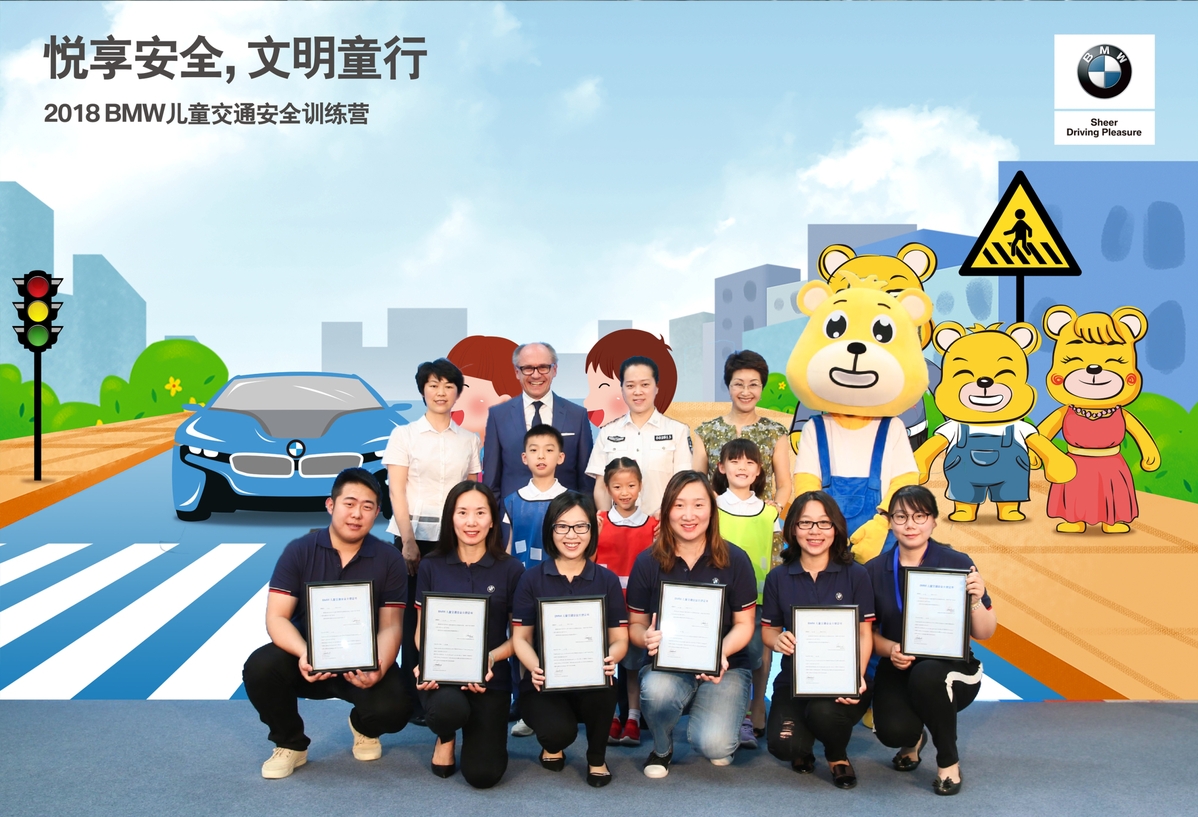 On the eve of Children's Day, German automaker BMW launched a corporate social responsibility program aimed at increasing road safety awareness in Beijing.
BMW Children's Traffic Safety Education is the first traffic safety education public advocacy project in the auto industry that has developed from large-scale city roadshows into a broad public engagement program, according to the company.
An activity was held at Beihang University's Tianxing Tennis Center on Wednesday, before moving to the cities of Qingdao, Yinchuan, Ningbo, Nanning and Shenyang over the next five months. "BMW Children's Traffic Safety Education represents one of our CSR commitments to the Chinese society," said Johann Wieland, president and CEO of BMW Brilliance Automotive Ltd.
"We are not only setting the benchmark for children's traffic safety education in China, but also paving the way for the healthy development of the voluntary sector," he added.
CTSE is one of the earliest traffic safety education programs in the country, running for the past 14 years. This year the program includes a voluntary element creating BMW Children's Traffic Safety Ambassadors who will promote traffic safety education in schools with fun-filled activities. It is hoped the message can be spread to almost 200 primary schools and kindergartens across the country.
The BMW Children's Traffic Safety Ambassador launched in schools is the latest offering from the 2018 BMW Children's Traffic Safety Education program, guided by the Ministry of Public Security, joining hands with China Children's Press and Publication Group.
BMW said it was the first automaker to respond to the government's call for traffic safety education to be promoted in schools. As vehicle ownerships grow in China, the awareness and importance of traffic safety issues among children has become increasingly significant.
To enhance awareness of traffic safety, the Ministry of Public Security, the Ministry of Education and Central Committee of Communist Youth League have jointly called for the promotion of traffic safety education in primary and secondary schools through a series of related activities. The BMW CSR program will call upon dealers, customers and associates to become volunteer "ambassadors" to deliver children's traffic safety education nationwide through a more scientific and standardized approach. Wieland said, "BMW Children's Traffic Safety Ambassador is open to our associates, dealers and car owners, as well as the whole society.
"As such, I extend a warm welcome to all of you: please join us and be a part of this platform to make our roads safer for Chinese children." The China Charity Federation BMW Warm Heart Fund will also donate 900 sets of BMW Children's Traffic Safety Education - the Magic Suitcase of Safety Education, which includes two suitcases of teaching aids, to nearly 200 schools across the country to promote children's traffic safety education in China.
At the same time, BMW Brilliance Automotive Ltd, in partnership with China Communications Press, is also introducing interactive virtual reality traffic safety courses for children.
This year, CTSE roadshows will not only improve children's traffic safety awareness through immersion learning by utilizing VR technology, but also enable children to learn about traffic safety knowledge by interacting with robots at the AnAn Magic Academy. The company has also noticed the impact its CSR program has had on adult driving behaviors with regard to traffic safety, so it is also focusing on educating drivers. The BMW Good Driver campaign was launched in 2017 engaging stakeholders to promote better driving and road safety awareness, with more than 11 million people having joined the online activities so far. The 2018 BMW Children's traffic Safety Education program will continue to educate adults, engaging BMW customers, dealers and associates at a deeper level through the BMW Good Driver campaign to create safer roads for children.