The four-footed legends of the silk road
Share - WeChat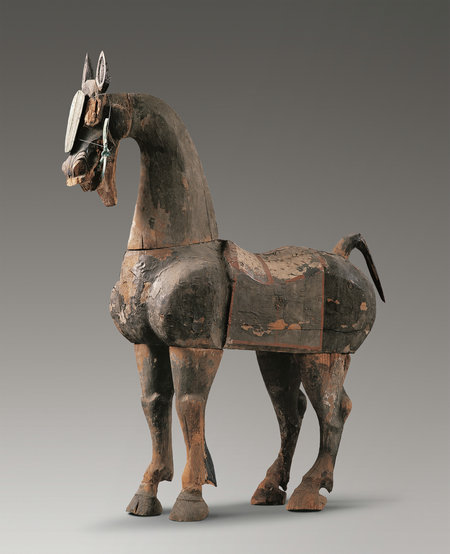 In ancient China animals did a lot of the economic heavy lifting and made a great contribution to art
In Western mythology the most famous horse is that of Troy, the giant wooden ruse that the Greeks used to wrong-foot their enemy.
If there is any equine image in the East that can match the stature of its Western counterpart, it is probably that of the "heavenly horses" - horses that once traveled the ancient Silk Road connecting the Chinese empire with the vast land lying to its west.
And if the Trojan horse embodied military subterfuge, then the heavenly horses, tianma, represented raw speed and stamina. The latter have also spawned numerous works of art, ones that remind us not only of a powerful ruler's ambition but also of the transcontinental trade route this ambition eventually gave birth to.
That ruler was Emperor Wudi of the Han Dynasty (206 BC-AD 220), under whose reign China gained prosperity and might that was without precedent. Mindful of the constant harassment of his country by the steppe nomads, Wudi sought to solve the issue once and for all, by forming an invincible cavalry that could strike with the same lightning speed as had those fierce horsemen. (These nomads, known as Xiongnu, had once laid siege to his great-grandfather and founder of the Han Empire.)
To do that he needed the warhorse, a breed native to the kingdom of Da Yuan, a Central Asian country in the Ferghana Valley. So around 139 BC the emperor sent out a convoy headed by a man named Zhang Qian on a westward journey that eventually took them to Central Asia. Their two most important tasks: to seek a military alliance with other countries at enmity with Xiongnu and to look for the reputed horses.
During an eventful journey that lasted 13 years, Zhang Qian was captured by Xiongnu twice. When he arrived back in the Han capital in 126 BC he was accompanied by just one man - and there were no horses.