China will import only what it needs
Share - WeChat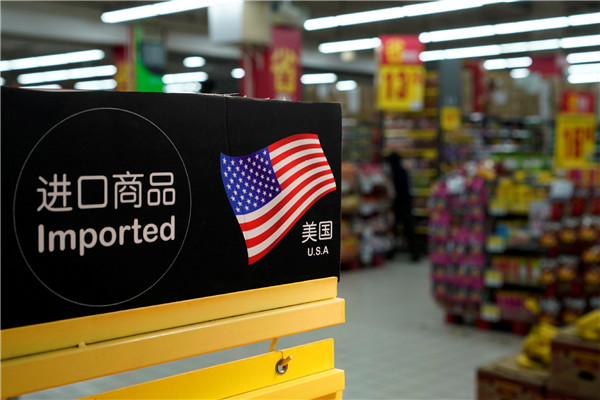 In the joint statement issued after the US-China trade talks on May 17-18, China pledged to significantly increase purchases of US goods and services. But there is a caveat to such a commitment: the products and services from the US, or any other country, must be those that Chinese people are willing to buy.
This means China will not buy additional US products and services it does not need, nor is China likely to switch purchases from other countries to the US.
This piece of information came at a news briefing in Washington on Saturday morning, hours before the joint statement was released. Speaking to the media toward the end of what he said was a "positive, pragmatic, constructive and productive" visit to Washington, Vice-Premier Liu He said China and the US reached consensuses on economic and trade issues and pledged to not engage in a trade war.
Liu said China, with a large middle-income population, will become the world's largest market. "The Chinese market will be highly competitive; nations longing for the market have to improve the competitiveness of their products and services so that the Chinese people are willing to buy (them)," he added.
Earlier, Liu said the number of China's middle-income earners had reached 400 million and is still growing. China's economy has been transitioning to high-quality development, and the country will expand its domestic market and increase imports to meet the needs of its people, economy and national development.
Liu also said the products and services exported to China must attract Chinese consumers, adding that the country is ready to buy goods not only from the United States but also from other economies.
Liu's remarks are likely to soothe those who fear that the latest China-US consensuses will come at the expense of some other exporters to China, including its trade partners in Europe and Asia.
The China-US joint statement said the two countries agreed on the need for "effective measures" to reduce the US trade deficit in goods with China and "meaningful increases" in US exports of agricultural and energy products.
As increasing imports from the US does not mean decreasing exports from China, the agreement is expected to take bilateral trade to a higher level. The US is aiming high. In one of a series of tweets on Monday, US President Donald Trump said, "Under our potential deal with China, they will purchase from our Great American Farmers practically as much as our Farmers can produce."
And Treasury Secretary Steven Mnuchin, who led the US delegation to the talks with China, said on Sunday that the US expects to see an increase of 35 to 40 percent in agricultural exports to China this year alone and a doubling of energy purchases over the next three to five years.
China is the US' largest export market outside North America. In 2016, the US had a trade surplus in agricultural products of $16.4 billion, according to a report issued by the Ministry of Commerce in May last year. But neither Mnuchin nor the Chinese delegation specified a numerical target for cutting the trade gap with China. After all, the market will play a major role in deciding the size of US exports to China.
China and the US are highly interdependent when it comes to trade. The US has a huge advantage in sectors such as energy, agriculture, high-tech and medical and financial services, all of which China has huge demands for.
In business, nobody likes to have deals imposed on them, nor does anybody like barriers for high-tech exports. In the joint statement, Beijing and Washington agreed to continue high-level engagement and to seek to address their economic concerns in a proactive manner.
Let us hope the two largest economies in the world will lead by example by continuing their win-win cooperation, which China is seeking with its other business partners, too.
The author is deputy editor-in-chief of China Daily USA.
Most Viewed in 24 Hours
China Views