Chinese filmmaker Zhang Yimou receives Boston University honorary degree
Share - WeChat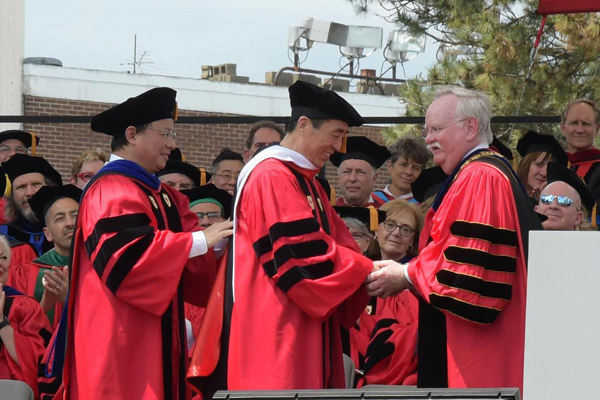 Famed Chinese filmmaker Zhang Yimou on Sunday was greeted with cheers and applause of an enthusiastic crowd after he received an honorary Doctor of Humanize Letters from the Boston University at its 145th Commencement.
"It's my greatest honor to present Zhang Yimou for the Boston University honorary degree," said Boston University President Robert Brown at the 2018 commencement.
Zhang Yimou's films "offer not only a perspective on the people and culture of China, but also a window into the universal qualities of human nature and yearning," he told about 7,000 graduating students and their parents.
He also praised Zhang Yimou's other work including ballet, opera and especially Olympic ceremonies.
"The opening and closing of the 2008 Beijing games left the world in awe at their unparalleled beauty and magnificence. Earlier this year, you dazzled once again with the Winter Olympics handover ceremony," he continued.
"Boston University is proud to confer upon you (Zhang Yimou) the degree Doctor of Humane Letters, honoris causa", the university president announced amid students' big and warm hail and applause.
Most Popular