Six Guizhou students to carry flags at 2018 FIFA World Cup
Share - WeChat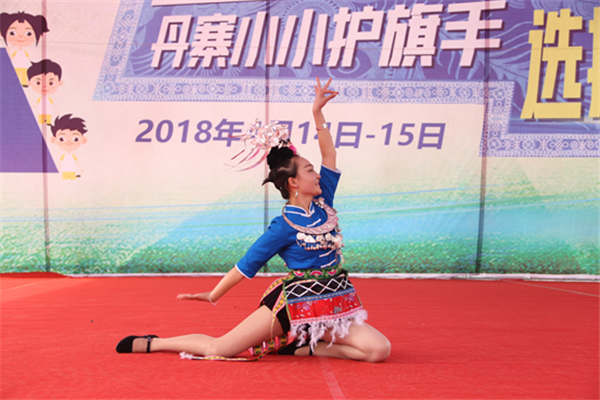 Whether they were dancing elegantly like a peacock, demonstrating their English skills or playing the reed-pipes like professionals, hundreds of students showed off their talent to try and earn the chance to travel abroad and broaden their horizons.
The FIFA World Cup in Russia this summer provided the opportunity for six talented students from China's southwest Guizhou province to realize their lifelong dream of going abroad.
About a month ago, a talent competition to find young flag carriers for the 2018 FIFA World Cup was held in Danzhai, a county in the province's Qiandongnan Miao and Dong autonomous prefecture.
More than 3,800 local students took part in the event, which saw 150 qualify for the final stages in a bid to win six air tickets to Russia and the chance to take part in a global event.
Mo Qiu, who plays football for her school team, along with five other local students, was finally selected and named as the flag carriers for the opening game of the World Cup this June.
"I have been dreaming about how I could one day go out and show the world the beauty of my hometown. It's a dream come true to be selected," says Mo Qiu during her acceptance speech.
Mo's speech reflects the aspirations of many teenagers living in the remote areas of Guizhou. The six students from Danzhai have been picked by Chinese real estate giant Dalian Wanda Group.
As a major partner and one of the top sponsors of this year's World Cup, Wanda was granted the exclusive rights to select the young flag carriers from around the world to attend the world's most famous football tournament. And it decided to hold the competition in Danzhai to find the six most talented local students.
In 2014, Wanda Group started a poverty-relief project in Danzhai, with the aim of helping the county build schools and improve its tourism infrastructure, and provided an investment of nearly 1.5 billion yuan ($235 million).
Now the county has been transformed into a popular tourist attraction, with more than 5 million people having already chosen it as their holiday destination.
The incomes of 15,000 poor local families have seen a dramatic increase, and more opportunities to see the outside world have arisen for some of the local kids with big dreams.
Xi He contributed to the story.