Field of dreams
Share - WeChat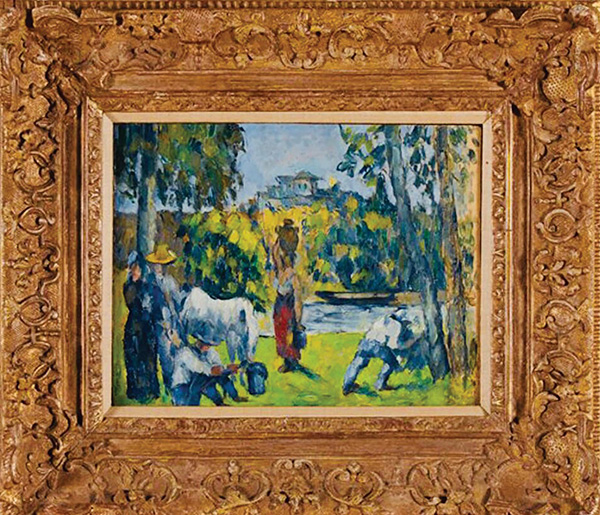 On April 29, Hong Kong boutique auctioneer and gallery Macey & Sons will auction Paul Cézanne's La Vie des Champs (Life in the Fields), in connection with Philadelphia auction house Freeman's. "We are honoured and delighted to be able to share this rarely seen Cézanne painting with our clients and friends prior to its upcoming auction in Philadelphia," says Jonathan Macey, founder of Macey & Sons. The work is estimated between US$1.2 million to US$1.8 million.
Painted in 1876 and 1877, La Vie des Champs, an oil that measures 11 by 14 inches, displays five figures among the trees, with a couple from Nice on the left and a woman with a jug atop her head in the centre of the image, more redolent somehow of Gauguin's Polynesia than Cézanne's Provence. We also discern a villa high on a hill in the background. The painting came at a time when Cézanne was obsessed with landscape – the famous Mont Sainte-Victoire dominates 44 of his oil paintings and 43 watercolours.
The rare work belonged to Dorrance "Dodo" Hamilton, the Campbell Soup heiress who died last April at the age of 88. The granddaughter of John Thompson Dorrance, a chemist who invented a method for condensing soup, Hamilton was a prominent cultural and philanthropic figure in Philadelphia. She was also a keen horticulturalist – a recreation that seems to have dictated much of her art portfolio. Hamilton collected what she liked, rather than with an eye on the market.
This all adds provenance to a work already bursting with history. One of many champagne moments the picture has is that it once belonged to French dealer Ambroise Vollard. From there, it changed hands to Prince Alexandre Bibesco, a Romanian aristocrat who befriended Marcel Proust; the painting was eventually purchased by Elinor Dorrance Ingersoll, Hamilton's mother.
Most Popular