Storage capacity is set to expand further
Share - WeChat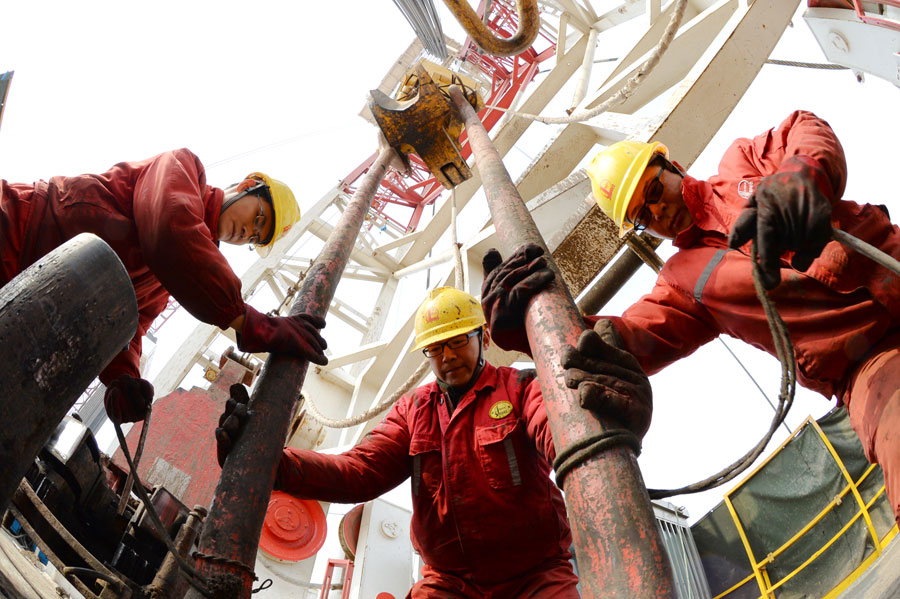 China has been expanding its underground gas storage facilities in an attempt to shift away from coal and oil, and to avoid a repeat of the gas shortage during cold snaps last winter.
The country's 25 underground gas storage facilities, which are designed to store 41.5 billion cubic meters of natural gas, now only have a working storage capacity of 18 billion cubic meters.
It is far from enough to hedge against shortages of the natural gas supply, according to Guo Jiaofeng of the Development Research Center of the State Council.
Compared with gas tanks above the ground, underground gas storage facilities are safer and more durable, with larger storage capacity and lower costs.
The volume of underground natural gas storage was only equivalent to 4 percent of the country's consumption at the end of 2017, while the average world level is 12 percent, figures from the center show.
As China's natural gas consumption is expected to exceed 500 billion cubic meters in 2030, the volume of underground natural gas storage should increase to at least twice the size of the current scale, Guo said.
China National Petroleum Corp, the nation's largest oil producer, which built 23 of China's 25 gas storage facilities, started injecting gas into an underground storage facility in Southwest China's Chongqing in April, marking the beginning of the stockpiling season for the heating fuel over the next six months.
The company supplied a record 7.4 billion cubic meters of natural gas last winter from the underground storage facilities, a 21 percent jump from the previous year to ease the pressure of peak gas demand in winter.
It also plans to supply 700 million cubic meters more this winter out of the storage facilities than it did last winter.
As part of the country's 13th Five-Year Plan (2016-20), the government plans to increase working storage capacity to more than 35 billion cubic meters by 2030.
This amounts to between 4.8 percent and 5.8 percent of the demand, based on forecasts from Sanford C. Bernstein & Co, while the world average is 11.7 percent.
Han Xiaoping, chief information officer of China Energy Net Consulting, says considering the high dependence on foreign oil and gas, underground gas storage tanks should be encouraged to prevent future gas shortages.
Wang Lu, an analyst from Bloomberg Intelligence, echoed his opinion, saying China's plan to add underground gas storage should help ease the pressure of peak gas demand in winter.
"The country's gas consumption peaks during the winter heating season but current storage capacity has restricted supply to industrial consumers during winter," she said.
"We estimate the storage capacity will rise to 4.1 percent of the gas demand in 2020 compared with the 2.8 percent in 2015," she said.