Beijing to uphold Iran nuclear deal; Teheran still on board
Share - WeChat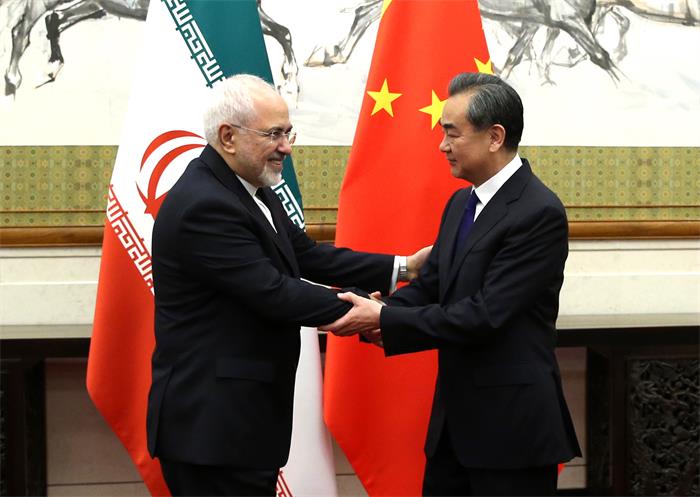 China said it will maintain communication and coordination with parties including Iran and continue its efforts to uphold the Iran nuclear deal in an objective, just and responsible manner.
State Councilor and Foreign Minister Wang Yi made the remark during his talks with Iranian Foreign Minister Mohammad Javad Zarif on Sunday.
China firmly upholds multilateralism and is committed to maintaining international treaties, Wang said.
The Iran nuclear deal is a hard-won fruit of multilateralism which helps safeguard the international nonproliferation regime as well as peace and stability in the Middle East, Wang said, adding that China, an important party to the deal, has invested much effort in reaching and implementing the deal.
Zarif praised China's stance over the deal, and emphasized that Iran will continue its communication and coordination with parties supporting the deal.
Iran believes that it's a responsibility and duty shared by all parties to ensure the deal's lasting, comprehensive and effective implementation, the Iranian foreign minister said, adding that Iran will make its own efforts in this regard.
The two foreign ministers also voiced the importance they attach to bilateral ties and their hope to cooperate under the Belt and Road Initiative.
China is the first stop for Zarif's trip to have talks with parties remaining in the Iran nuclear deal, days after the United States withdrew. The trip also includes Russia and some European countries, Foreign Ministry spokesman Geng Shuang said in a statement on Saturday.
Zarif said he hopes the trip will map out a clear future for the deal.
US President Donald Trump announced on Tuesday that his country will withdraw from the deal and resume sanctions on Iran, sparking concerns and opposition by the other parties to the deal.
The deal, or the Joint Comprehensive Plan of Action, was made between Iran and six major countries — the US, Britain, France, Russia, China and Germany — plus the European Union in 2015. It limits Iran's nuclear program in exchange for the lifting of sanctions imposed by the international community.
Trump, however, has been expressing dissatisfaction and threatening to withdraw from the agreement since the 2016 presidential campaign.
Iranian President Hassan Rouhani said on Tuesday, "If the remaining five countries continue to abide by the agreement, Iran will remain in the deal despite the will of America," Reuters reported.
He said that he had asked the Iranian foreign minister to initiate negotiations with the European partners as well as China and Russia over measures regarding the fate of the deal.
Xinhua contributed to this story.
Contact the writers at wangqingyun@ chinadaily.com.cn