SCO Qingdao summit to enlighten member states toward shared future
Share - WeChat BEIJING - The Shanghai Cooperation Organization (SCO) will hold a summit in June as leaders are expected to exchange ideas on dealing with global issues and roll out cooperation measures for the bloc's future when they gather in east China's coastal city of Qingdao.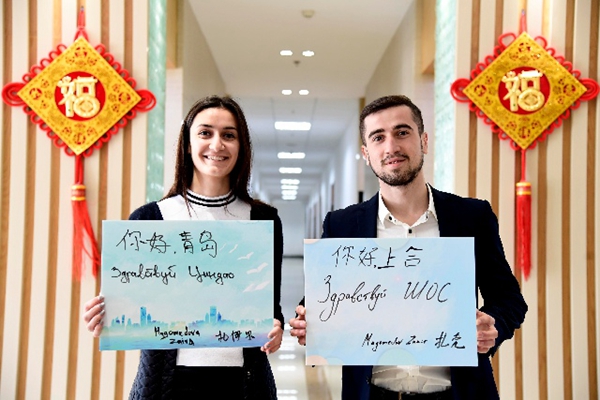 The SCO, after 17 years, has grown into the world's most populous comprehensive regional organization. Its full members are China, Kazakhstan, Kyrgyzstan, Russia, Tajikistan, Uzbekistan, India and Pakistan.
The SCO now accounts for over 60 percent of the Eurasian landmass, nearly half of the world's population and over 20 percent of global GDP.
Experts say the upcoming summit is widely expected to inject new drive into the development of regional organization toward a closer "community of shared future" for member countries.
BEDROCK SPIRIT
With a focus on carrying on the "Shanghai Spirit", the bedrock of the SCO, the Qingdao summit will enhance trust and solidarity between the member states and build a closer SCO community.
The "Shanghai Spirit," which features mutual trust, mutual benefit, equality, consultation, respect for cultural diversity and pursuit of common development, has become the spiritual bond of member states on building a community of shared future.
Member countries have been promoting win-win cooperation and shared development in various areas and played constructive roles in regional and international issues.
The SCO has never been simply a security group. The organization has also been devoting itself to the region's development by facilitating trade and investment, enhancing industrial cooperation and promoting people-to-people exchanges.
Meanwhile, the China-proposed cooperation framework of the Belt and Road Initiative (BRI), which features many flagship projects on infrastructure, finance and people-to-people exchanges, heralds greater opportunities for development.
"The SCO and BRI offer mutual support and opportunities to each other, and the BRI concept has already been embedded into the SCO and are making positive progress," said Li Jianmin, a researcher with the Chinese Academy of Social Sciences.
"From theory and planning to practical implementations, cooperation in the alignments of development strategies between China and other SCO member states has also come to a new stage, with a series of projects under steady progress," Li said.
SCO Secretary General Rashid Alimov described the bloc as "a paradigm of the peaceful co-existence of nations with different powers and various political systems and cultures."
"Within the group, no one dominates, wins or loses, and agreements are reached through negotiation and consultation," Alimov said.
"The 'Shanghai Spirit' bears similar elements embodied in the vision of a community of a shared future for humanity and the global governance principle of achieving shared growth through discussion and collaboration, and will continue to deliver strong vitality," said Li Yongquan, head of the China Society for Russian, Eastern European and Central Asian Studies.
START OF NEW JOURNEY
About a year ago, China took over the rotating presidency of the SCO.
During China's SCO presidency, more than 120 activities have been held as of the end of last month, covering a wide spectrum including politics, economy, security, people-to-people exchanges and external exchanges.
"Seventeen years on, both China and the SCO have undergone profound changes, and both have seen a rise in their international influence," said Zhang Lili, a professor with China Foreign Affairs University.
"While moving closer to center stage, China will make a greater contribution to the SCO development at the summit," the professor said.
The summit is expected to ratify a five-year outline for the implementation of the "Treaty on Long-term Good Neighborliness, Friendship and Cooperation" to set the direction for SCO cooperation in the next phase, and approve a host of resolutions and cooperation deals covering areas including security, economy and trade, as well as people-to-people exchanges.
Also, by touching on major international and regional issues, the summit will be an important chapter for the improvement of global governance and the building of a community with a shared future for humanity.
At a meeting of the SCO Council of Foreign Ministers last month, the ministers noted that the world was rapidly developing and undergoing unprecedented change with the emergence of a multipolar world order, an increasingly globalised world economy and enhanced connectivity and interdependence between states.
They stressed the need to follow multilateral approaches for resolving the issues the world is facing, and respond to various threats and challenges by improving global governance based on a collective approach.
Li Yongquan said he believes that by offering constructive solutions to regional cooperation and global governance, the "SCO strength" will add vigor to humanity's progress.