Bronze statue of Karl Marx unveiled in hometown
Share - WeChat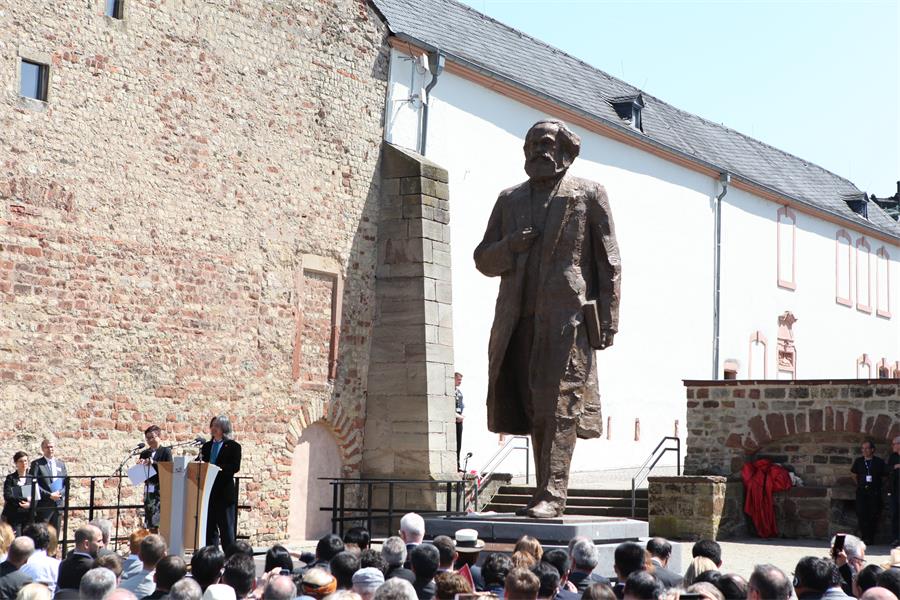 A bronze statue of Karl Marx presented by China as a gift to celebrate the 200th anniversary of the German philosopher was unveiled on Saturday in his hometown Trier.

The 4.6-meter-high statue, standing on a 0.9- meter base, was created by Chinese artist Wu Weishan and erected in the center of Marx's birthplace.

Speaking at the unveiling ceremony, Guo Weimin, vice-minister of the Information Office of the State Council, said Marx's thought has had enormous influence on the intellectual, economic and political history of mankind.
"The statuepresented by China at this special occasion is a demonstration of our respect to the great philosopher and it is a symbol of Sino-German friendship," Guo added.
Trier's mayor, Wolfram Leibe, welcomed the statueas a new attraction of the city and said: "This is a gift of friendship which we receive from China rather than a political statement.
"Karl Marx formulated great ideas, and it is worthwhile to think about these ideas," Leibe said, adding that this year renders a good opportunity to reassess the thinker and his work, and Marx should take his place as one of the greatest sons of the city.
Marx was born on May 5, 1818 and spent the first 17 years of his life in Trier, a southwestern German city near the Luxembourg border, before going to study in Bonn and then Berlin.

The 19th-century philosopher is well known for his works The Communist Manifesto and Das Kapital.

In a speech at a church in Trier on Friday, Jean-Claude Juncker, president of the European Commission, said:

"Karl Marx was a philosopher whose thought into the future had creative aspirations," and thus it was of great significance to mark this special occasion.

The 2.3-ton statuedepicts a thoughtful but towering Marx, holding a book in his left hand and looking ahead with confidence in eyes.

Wu, the curator, said: "It is a great honor for me to create the statueof the great thinker and to witness its unveiling in his birthplace.
"This statueshows my deep respect to the great thinker as well as my recognition of Marx in an artistic sense," Wu added.
Joerg Kurpjuhn, resident of the German city Kolbenz, who traveled to the unveiling ceremony, said: "It is a good idea to have Marx's statue in the city of Trier, because he is the son of the city. It is a nice present from China.

"Also, this year is the first time that I become really interested in him and think about him," Kurpjuhn said. He added that Marx was a very important person and changed the world in the 19th century, and his thoughts have contributed greatly to developing into today's reality.
Contact the writer at wangmingjie@mail.chinadailyuk.com