Disneyland sees rosy future in Shanghai
Share - WeChat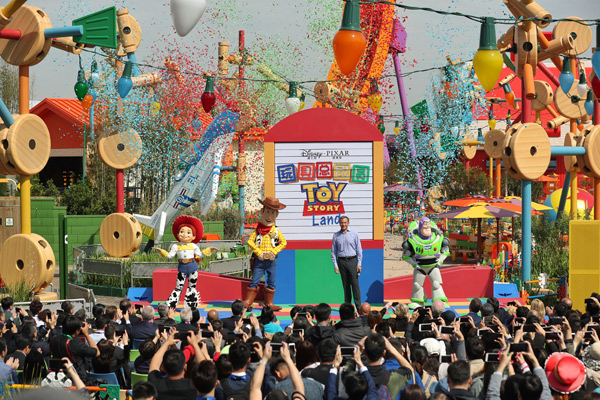 Shanghai Disneyland opened its seventh themed area on Thursday, marking the first major expansion of the park since its debut in June 2016.
The Disney Pixar Toy Story Land, inspired by the blockbuster Toy Story films, is the latest demonstration of the company's confidence in China's growing demand for high-quality themed entertainment, said Robert Iger, chairman and chief executive officer of The Walt Disney Co.
"We are grateful to the people of China for whole-heartedly embracing this resort, for truly making it your own and making Shanghai Disneyland one of the most successful parks we've ever opened," Iger said at the opening ceremony.
"On the opening day (of the park) we made a promise that it was only the beginning ...the grand opening of Toy Story Land certainly honors that commitment," he said.
The new themed area offers three main attractions, a meet and greet area, a boutique shop and a restaurant, all of which feature characters from the long-running Disney Pixar franchise.
The immersive land is designed to allow guests to experience being shrunk down to the size of their favorite Toy Story toys in the backyard of Andy, the boy from the movie.
Elements tailored to the Shanghai park include the creation of Woody's Roundup, where tourists climb aboard pony carts, retail store Al's Toy Barn, and a number of character icons scattered across the area.
"We know that Chinese people love to take photographs ... so we have over 30 character icons in this land, which is by far the most we have done in any land ever," said Jim Shull, executive creative director of Walt Disney Imagineering Shanghai.
Designed by a team of around 600 people, everything in the park was initially designed based on a digital virtual model instead of a physical one, which differs from Disney's past trials, Shull said.
With the Toy Story movie being a tipping point, the themed land will definitely attract both new visitors and recurring guests for Shanghai Disneyland, said He Jianmin, a professor of tourism management at Shanghai University of Finance and Economics.
The Shanghai park attracted more than 11 million visitors in its first year of operation, putting it in the top seven theme parks worldwide and the most-visited site in China, according to data from the Themed Entertainment Association and consulting firm Aecom.
The entertainment giant has entered the race to dominate the country's $204 billion media and entertainment industry, according to professional service provider PwC, attracting players from longtime rivals such as Chimelong Ocean Kingdom to new entrants such as Shanghai Andersen Paradise.