Trump: 'Very good chance' of China trade deal
Share - WeChat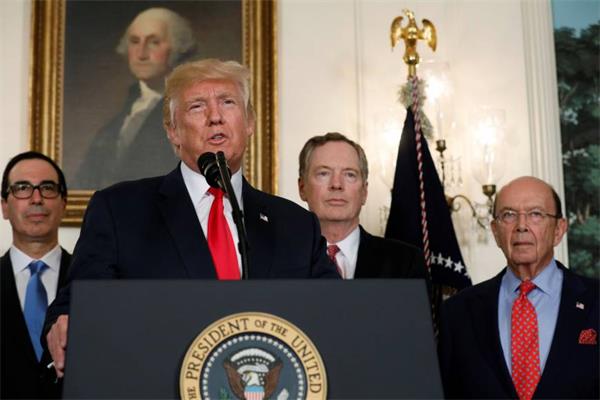 US President Donald Trump expressed his optimism on Tuesday of reaching a trade deal with China as a senior US delegation prepares to visit China for talks.
Trump said Treasury Secretary Steven Mnuchin and US Trade Representative Robert Lighthizer will lead a delegation in a few days to negotiate on trade.
"I think we've got a very good chance of making a deal," Trump told the media in meetings with visiting French President Emmanuel Macron at the White House.
Trump said, "China is very serious, and we are very serious," adding that the tariffs announced "will continue unless we make a trade deal".
Calling Chinese President Xi Jinping a "terrific guy and a friend of mine", Trump praised Xi's recent speech to further open up the Chinese economy. But he continued to raise the US bilateral trade imbalance with China, the European Union and some other countries as a serious issue.
Most economists and trade experts disagree with Trump blaming trade partners for the US trade deficit, arguing it's caused by US fiscal policy, the low savings rate and the tax-reduction plan introduced lately.
Trump said the visit is at China's request, adding that "they came here recently. We are going there. And that will be good."
Yi Gang, governor of the People's Bank of China, the central bank, reportedly met Mnuchin in Washington last week during the IMF/World Bank annual spring meeting.
Liu He, a member of the Political Bureau of the Communist Party of China Central Committee, visited the US from Feb 27 to March 3 to address the trade tensions, while State Councilor Yang Jiechi also traveled to the US in early February to exchange views on a range of issues with the US side.
Trump's words on Tuesday confirmed what Mnuchin told the press on Saturday, that he might travel to China, a move seen as sending a signal of easing bilateral trade tensions.
Concerns about a potential trade war have rattled financial markets and raised concerns of governments and investors in both countries and around the world.
It will be Mnuchin's first trip to China as US Treasury secretary.
The Wall Street Journal reported that White House National Economic Council Director Larry Kudlow and White House trade advisor Peter Navarro will also be on the team that is likely to be in Beijing around May 3 and
May 4.
China's Ministry of Commerce said in a statement on Sunday that "the Chinese side has received information that the US side hopes to come to Beijing to discuss economic and trade issues. China welcomes this".
"It is not surprising for China and the US, the two largest economies, to have some problems in the economic field. These problems can be solved through bilateral consultations or within a commonly recognized multilateral framework. However, they can never be solved through unilateral means," Foreign Ministry spokesman Lu Kang said on Tuesday.
The US has threatened to impose tariffs on $150 billion worth of imports from China following a Section 301 investigation into China's intellectual property policies and practices. China has vowed to fight back and has proposed tariffs on $50 billion worth of imports from the US, including cars, soybeans and airplanes.
China also fired back against US Section 232 tariffs imposed on steel and aluminum imports in the name of national security by enacting new tariffs on 128 US items, including fruit, wine and pork products.
Gary Hufbauer, a nonresident senior fellow at the Peterson Institute for International Economics and a former deputy US assistant secretary of treasury for international trade and investment policy, called Mnuchin's upcoming trip "constructive".
"But I fear that President Trump is piloting the United States into a costly Cold War with China. A big reduction of trade tensions is essential to get our countries off this course," Hufbauer told China Daily on Tuesday.
Many observers believe that bilateral trade tensions are also largely driven by US national security strategy, which defines China, along with Russia, as a "strategic competitor" and "revisionist power", terms that the Chinese government said reflect a Cold War mindset.
Besides threatening tariffs, the US has vowed to tighten restrictions on Chinese foreign direct investment in the US, especially in the technology sector. The US has targeted the Made in China 2025 strategy that aims to modernize China's 10 industrial sectors from robotics to aerospace to clean-energy cars.
Trump's tariffs measures have faced a backlash at home. In testimony by US Agriculture Secretary Sonny Perdue before the Senate Agriculture, Nutrition and Forestry Committee on Tuesday, several US senators raised concerns about the negative impact on their local economies.
Contact with the writer at chenweihua@chinadailyusa.com.