Power demand increases in Q1 as economy firms
Share - WeChat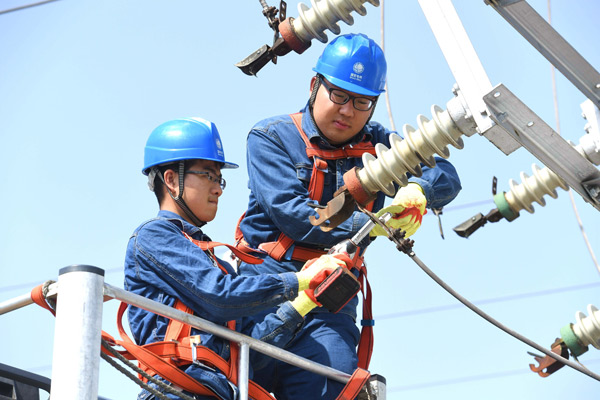 China's electricity consumption, an important indicator of economic activity, rose significantly during the first quarter of this year, as the service sector played a bigger role in driving the economy, the country's energy authority said on Tuesday.
Power consumption rose 9.8 percent to 1.6 trillion kilowatt-hours in the first three months, a quarterly record high since 2012, up 4.1 percentage points compared with the fourth quarter of last year, data released by the National Energy Administration showed.
The record growth was due to the strong economic performance during the first quarter as well as the robust service sector that drove the upturn in power use, said Li Fulong, head of the Development Planning Department of the NEA.
China's economy grew 6.8 percent in the first quarter of 2018, slightly faster than expected, buoyed by strong consumer demand and surprisingly robust property investment.
Supply-side structural reform and new growth momentum have all contributed to the growth in power consumption and there has also been a trend of slower power use in traditional energy-consuming sectors and increasing power demand from the service sectors, he said.
Service sector electricity consumption rose 16.7 percent during the period, followed by a 10.3 percent increase for the agricultural sector and 6.7 percent for the industrial sector. Residential power use was up 17.2 percent, and solar and wind energy increased 58.7 percent and 37.9 percent respectively.
Joseph Jacobelli, a senior analyst of Asian utilities at Bloomberg, said the shift away from industrial use to commercial and residential use, which has been going on for a few years already, should steadily continue.
It is likely that in one or two decades industrial usage of electricity as a percentage of the total will fall to below 50 percent, he said.
According to Jacobelli, the cold snap also contributed to the record high power consumption, especially during the first two months.
"Consumption shot up 13.3 percent in the first two months of 2018 chiefly due to unusual weather conditions," he said.
"We expect that for the full year the increase should average about 6 percent."
According to the administration, China's energy mix has also continued to improve, with the acceleration of a greener growth and a low-carbon model.
While petroleum consumption growth remains at a low-speed, China's natural gas consumption witnessed rapid growth, which totaled 71.2 billion cubic meters during the first quarter, a year-on-year growth of 9.8 percent.
Urban gas usage witnessed a year-on-year increase of 23 percent and chemical gas consumption decreased 15 percent year-on-year, it said.