UK faces waste stockpile threat as China tightens scrap metal imports
Share - WeChat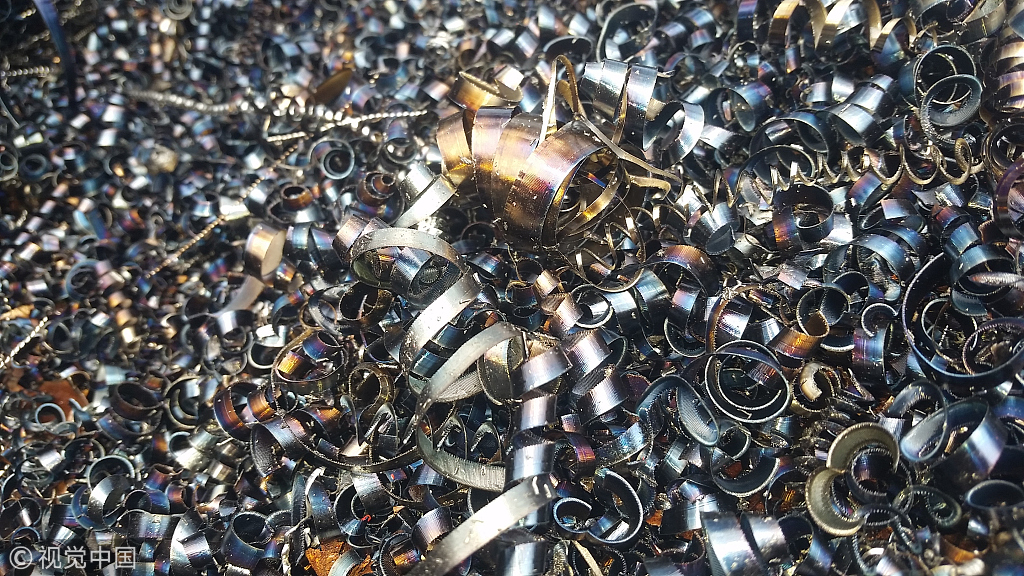 Move follows previous decisions on plastic, paper
British recyclers have urged the government to take action after China announced it will soon stop accepting imports of thousands of tons of scrap metal from overseas destinations, following similar bans on plastic and paper waste.
China's Ministry of Ecology and Environment has announced that over the next 18 months the country will ban imports of 32 solid waste materials - including many types of metal - in order to "reduce environmental pollution".
If the materials are not sent to China, they will be stockpiled until recycling companies either find a way to recycle them or bury them at landfill sites. The environmental hazards that were previously exported to China will have to be dealt with in the UK.
"Solid waste often contains harmful elements if not properly disposed of," the ministry said in a statement. "China has decided to phase out imports of solid waste that can be replaced by domestic resources before the end of 2019."
The fresh wave of Chinese waste restrictions comes four months after the country stopped accepting plastic and paper imports.
The latter ban led to the stockpiling of recyclables across Britain, which had previously exported around 500,000 metric tons of scrap plastic and 1 million tons of paper to China each year.
China is a significant market for UK scrap metal exporters, who sent 400,000 tons of assorted metals worth more than 200 million pounds ($279.2 million) to the country last year, according to the British Metals Recycling Association, also known as BMRA.
From December 2018, China will ban imports of 16 types of solid waste including: steel slag, post-industrial plastics, compressed auto pieces, small electric motors and insulated wires, and vessels. By the end of 2019, a further 16 types of waste will be banned, including wood pellets, stainless steel scrap, and nonferrous scrap (meaning alloys not containing iron) excluding aluminum and copper.
Howard Bluck, technical director of the BMRA, said the new restrictions mean a range of scrap items - including old vehicles and mixed metal waste from UK households - will likely no longer go to China.
The BMRA has called on the UK government to negotiate with China on the timeline of the ban.
"It is clear that China will not reverse its position, they appear to be resolute in ensuring their country is not the waste dumping ground for the rest of the world," Bluck said. "However, we need an opportunity to create a graduated approach to this. It would be helpful if the UK could lobby for a reasonable time frame on the introduction of these new measures."
Bluck said recyclers are likely to feel the effects of the ban long before its comes into effect. Shipping companies have grown increasingly nervous that loads will be turned away as China has stepped up screening of waste imports for impurities.
In the long term, Bluck said that the new ban may encourage the UK government and consumers to rethink how waste metal is handled, as was the case with the ban on plastic imports.
Public condemnation of Britain's waste disposal strategy, as well as extensive media coverage of the issue of plastic pollution, led to new UK legislation on single-use plastic, and some supermarkets pledging to adjust packaging practices.
"In terms of dealing with the impacts of the Chinese restrictions, the UK should treat this as a huge opportunity to invest in the UK and to create jobs and wealth in our domestic recycling sector," Bluck said.
The BMRA also called on the UK government to take the new Chinese import restrictions into account when developing its resources and waste strategy, which is due in the second half of this year.
The Department for Environment, Food and Rural Affairs has delayed publication of the strategy due to new government policies aimed at reducing single-use plastic waste, brought about in part by China's import ban.