Chinese students design and develop space-worthy satellite
Share - WeChat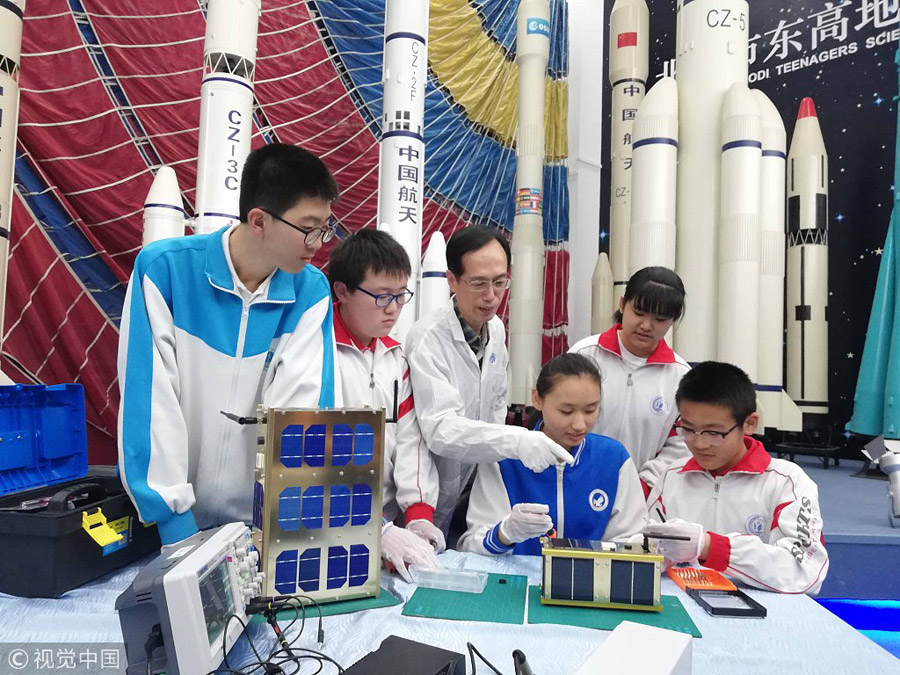 Building satellites is not the exclusive domain of scientists in a lab — it's also a keen interest for a group of middle school students in Beijing's Fengtai district.
A total of 31 Beijing middle school students recently finished designing a satellite, "Fengtai Teenager No 2." It is the second satellite designed by Beijing middle school students, after the first one launched in 2016.
The new communication satellite was unveiled on Monday at a theme event for China Space Day, which falls on April 24 every year.
The satellite is a golden box with dozens of dark blue solar panels and a black camera, and its two antennas can change directions, like an insect's. Compared to the first one, the second is bigger and has more functions.
The prototype of this newly designed satellite will soon enter vacuum testing, and will be launched into space in the second half of the year. It can send and receive signals at programmed times and take pictures.
A person in charge said the project was launched a year ago, and 31 students from different districts of Beijing received theoretical training and participated in the design process. Professional teachers guided them when the material went beyond their abilities.
The students wanted the satellite to be equipped with more practical functions, like letting them see images of outer space more directly. That's why remote sensing was also added to the satellite.
Fengtai district has invested about 2.4 million yuan ($380,090) in the satellite. To better the satellite's communication functions, four ground stations have been established at a cost of 4 million yuan.
Currently other provinces and regions in China, like Zhejiang and Shanghai, have shown interest in carrying out space science education in the same vein as the "Fengtai Teenager No 2".
Today's Top News
Editor's picks
Most Viewed