Customized travel takes to the skies in Chinese tourist market
Share - WeChat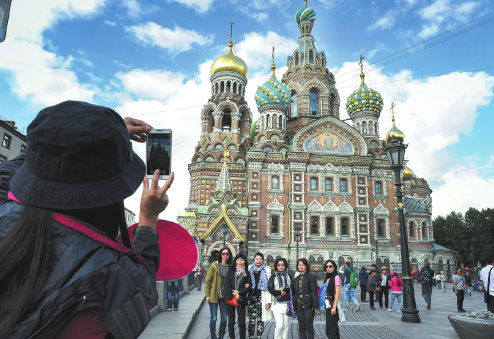 Experts say rapidly increasing sector provides unique business opportunities
China's customized travel market - which crafts holidays tailor-made to meet the special needs of increasingly affluent and demanding tourists - grew fast last year, according to a new industry report.
Experts said that dynamic growth is expected to continue throughout 2018.
The industry report found that some 40 percent of customized travel by Chinese tourists in 2017 was overseas, with Europe accounting for 10 percent of total outbound travel.
The report was released Monday by online tour operator Ctrip and the China Outbound Tourism Research Institute, at the first Business Summit of Ctrip Customized Travel held in the Hungarian capital, Budapest.
The joint report, entitled Customized Travels of Chinese Visitors to Europe, detailed the growth in demand for bespoke travel to Europe in 2017.
"China's travel market is booming, which offers a new business model and opportunities for products and services in customized travel," said Ctrip Customized Travel CEO Kane Xu.
With year-on-year growth of 130 percent in 2017, Europe has seen increasing numbers of Chinese travelers opting for unique, personalized travel experiences.
The report found that apart from being tailor-made, the main requirements for these trips were that they be in-depth, private, niche, conducted at a slow pace and be more focused on leisure.
Ctrip's travel data showed that 2017 saw more than 6 million Chinese take their first trips to Europe.
A total of 9.3 percent of Chinese travelers chose Europe as their outbound destination, making it the second most popular continent for Chinese travelers. Females traveled more than males and 23 percent of total outbound tourists to Europe were aged 50 and above.
The top five European countries for customized travel were Britain, Italy, France, Russia and Greece. On average, tailor-made trips to Europe lasted around 12 days, with tours not exceeding two countries.
"The demand for and consumption of customized travel by Chinese consumers is unique and represents a leading global market segment," said travel expert Wolfgang Georg Arlt.
Arlt, director of the China Outbound Tourism Research Institute, a leading independent research body on China's rapidly growing outbound tourism sector, said the customized travel market was characterized by its "popularity, youthfulness and high growth rates".
Last year Shanghai, Beijing and Guangzhou were the top three departure cities for customized travel. Second-tier cities - such as Harbin, Wuhan, Fuzhou, Nanjing and Hangzhou - made up 50 percent of tailored trips, but were among the fastest-growing cities with year-on-year growth exceeding 100 percent.
Personalized demands and themes - from gastronomy to wedding photography, to study tours to honeymoons, to specific sporting interests and activities - can now be met through Ctrip's vast resources and selections.
According to the industry report, the sheer size of Europe provided a huge variety of options for Chinese tourists.
At a recent forum during the China Outbound Travel and Tourism Market held in Beijing last week, industry experts said that Chinese tourists were showing ever-increasing demand for outbound travel experiences.
The forum was also told the majority of tourists wanted to enjoy customized travel products and high-quality services.
Matt Thompson, project director at Tarsus Group, the host of the annual event, said China had become the biggest source of inbound tourists for a growing number of countries including Thailand, Vietnam, Indonesia and Russia.
According to data from the China Tourism Academy, the country's tourists made more than 130 million overseas visits and spent a total of $115.29 billion during their travels last year.
Global management consulting company Mckinsey has forecast that 44 percent of total international spending on premier, customized holidays will come from China in 2025.
Currently about 120 million Chinese people have passports, just 9 percent of the country's total population, according to government data. In contrast, in the United States, passport holders account for 36 percent of the population.
The comparison indicates that there will be sustained growth in China's outbound tourism market, Tarsus Group's Thompson said.
Other factors, such as renminbi appreciation and a growing number of countries agreeing to visa-free or landing visa services for Chinese tourists, or dealing with visa applications online, will also spur the growth in the outbound tourism market, he added.
Dai Bin, president of the China Tourism Academy, said China's outbound tourism market continued its growth momentum in 2017, up 7 percent from a year earlier.
Family trips are increasingly becoming a key segment in the market, he noted.
"Consumers are more and more valuing safety and quality experiences in their travels," he said.
"They need a convincing reason why they should share the destination with their family members or friends, so in the future, what children like will be an important consideration to tourism companies."
China Daily - Xinhua