How cosmetics were created in ancient China
Share - WeChat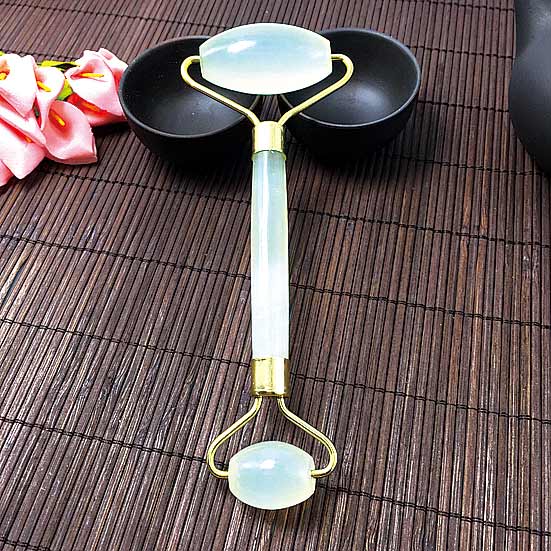 One of the most popular skincare products in the Western world over the past year is believed to have originated during the Qing Dynasty (1644–1911). Some have even claimed that Empress Dowager Cixi, who ruled during the later part of this era, frequently used this tool to improve and maintain her complexion.
Featuring two pieces of jade attached on both ends of a handle, the jade roller is gently run across the face to promote blood circulation as well as reduce puffiness and wrinkles. Jade is traditionally known for its cooling properties.
Although the supposed benefits of the jade roller is not backed by scientific facts, its low price — the item can be bought for just $7.98 on Amazon — and ease of use have drawn many consumers to give it a try.
The jade roller was hardly the only means of beauty enhancement in the past. Ancient Chinese used to create cosmetics by boiling and fermenting ingredients such as plants, animal fats and spices.
Believed to have originated during the Spring and Autumn Period (770-476 BC), facial powder — also known as foundation in modern society — was one of the most rudimentary forms of makeup that was made by grinding fine rice. Another form of powder was made using lead, which despite its toxicity, was coveted for its skin-whitening properties.
Rouge, powder that is used to color the lips or cheeks, is believed to have been around since as early as the Shang Dynasty (c.16th century-11th century BC). This cosmetic was made from the extracted juice of leaves from red and blue flowers. People were also known to have added ingredients such as bovine pulp and pig pancreas to make the product denser. Rouge for the face was often blended with powder.
Chinese women have always paid great attention to their eyebrows as they believe that this facial feature is linked to their fate. During the Warring States Period (475-221 BC), women used the soot derived from burning willow branches to paint their eyebrows. Another type of eyebrow makeup was made using dai, a blue mineral that was grinded into powder and mixed with water.
It was popular to have long eyebrows before the Qin Dynasty (221-206 BC) but this changed during the Han Dynasty (206 BC-AD 220) when women frequently shaved their eyebrows and drew new ones instead.
There were dozens of popular eyebrow shapes during the Tang Dynasty (AD 618–907). Arched and thin eyebrows, resembling a willow leaf or a moon, were also trendy as they were deemed as symbols of elegance.
The Tang Dynasty was also when huadian, a decorative element located on the forehead between the eyebrows, came into vogue. This element was often created using gold or silver foil, paper, fish scales or even dragonfly wings. A similar facial decorative element was zhuangye — drawing small circles on both cheeks using powder — which was prevalent during the Tang Dynasty and Song Dynasty (960–1279).
In an age where there were no fashion magazines or style icons, the definition of beauty was largely decided by what the emperor preferred. If the makeup of a particular imperial concubine was appreciated by the ruler, her style would become a trend that was followed by both the nobles and commoners.
"Ancient beauty practices were closely related to social, political and economic factors," said Shen Yunlu, a professor from Shanghai International Studies University who lectures on women's study.
"Women in ancient China had low social status, and because polygamy was common during those times, women needed to enhance their looks in order to stand out from their husbands' other wives."
In today's context, Shen noted, the use of cosmetics is more related to the self.
"As women become increasingly regarded as equals to men in various aspects of society, their makeup has also become increasingly diversified. Today, the use of cosmetics is no longer just a way to winning someone's affections — it is a means to showcase self-awareness and confidence," she said.
caochen@chinadaily.com.cn
Most Popular