Hefei busmaker bags $63.6m order in Saudi Arabia
Share - WeChat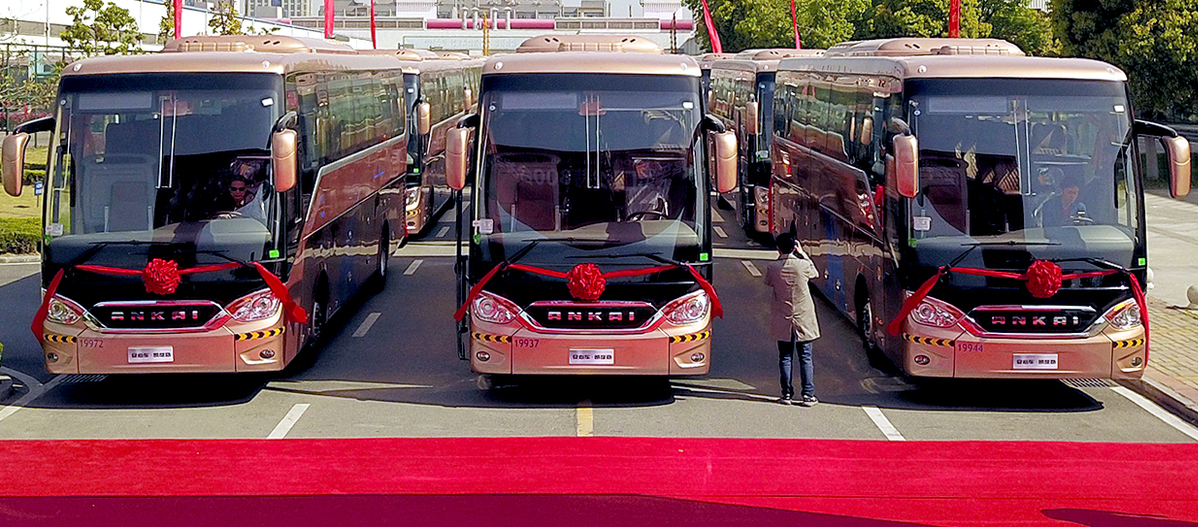 A total of 800 buses started their engines in Hefei, Anhui province, on Tuesday morning, readying for export to Saudi Arabia.
Produced by Anhui Ankai Automobile Co, an automaker headquartered in Hefei's Baohe district, the deal was concluded at a combined contract value of about 400 million yuan ($63.6 million).
Anhui Jianghuai Automobile Group Corp, or JAC, a State-owned automaker also headquartered in Hefei, holds the largest stake in Ankai.
The buses will be delivered to Saudi Arabia in two batches, with the first estimated to arrive in 10 days, according to Dai Maofang, president of Ankai, a publicly traded company listed on the Shanghai Stock Exchange.
The deal is said to be the biggest export order of buses won by a Chinese automaker so far in 2018, according to Dai.
Ankai entered Saudi Arabia in 2007. Its first major order came in 2011, a year when the company exported 3,000 school buses to the country. It was the largest export order of buses from China then, and also the largest bus export order for Saudi Arabia ever won by Chinese automakers.
"Last year, Ankai delivered 600 model A9 buses to Hafil Transport Company, the largest transport firm in Saudi Arabia," said Dai, adding that the model is one of Ankai's most high-end products.
In February, Ankai won another deal to export 800 model A9 buses to Saudi Arabia.
"The geographic conditions and the large number of tourists in Saudi Arabia present more challenges to vehicles operating in the country than other regions," said Dai at the departure ceremony on Tuesday.
Dai believes it is Ankai's service network and global reputation that have helped the firm win more deals from Hafil.
Ankai's latest annual report released in March shows that it sold 8,718 buses in 2017, which was 14 percent less than the previous year. "But rapid growth was seen in exports in recent years, partly thanks to the Belt and Road Initiative," Dai said.
In 2017, Ankai exported 1,370 buses to overseas markets, including 500 to Myanmar, 90 to Kazakhstan and nearly 100 to the Philippines.
"Recently, we have also won deals from importers in Kazakhstan and Ghana, which has helped us gain more confidence in the face of increasingly fierce competition in the global market," Dai said.
Yang Xiao and Tao Kun in Hefei contributed to the story.