International community must prevent a trade war
Share - WeChat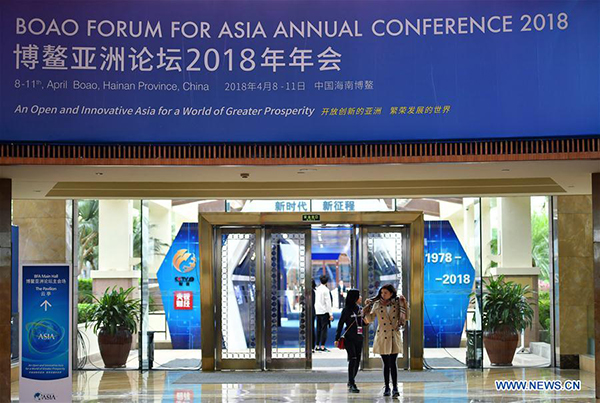 The world will pay special attention to President Xi Jinping when he addresses his speech to almost 2,000 politicians, and business, media leaders and scholars from across the world at the annual Boao Forum for Asia in South China's Hainan province on Tuesday amid the escalating Beijing-Washington trade dispute.
Since US President Donald Trump took office in January 2017, the world has been concerned about his governance strategies and tactics. In contrast, China has been acting as a responsible world power. Last year, China exhibited its goodwill when Xi met with Trump at Mar-a-Lago resort in the US state of Florida. That meeting was followed by Trump's state visit to China last November and the Xi-Trump meeting at the G20 Summit in Hamburg, Germany, in July.
But those high-level dialogues did not soften Trump's determination to ignite a trade war with China. Even the visits of Yang Jiechi and Liu He, both members of the Political Bureau of the Communist Party of China Central Committee, to the US to show China's sincerity in addressing the key issues of mutual concern through negotiation didn't have any effect on Trump.
Instead, Trump said on Thursday that he is considering additional tariffs on Chinese goods of $100 billion. This would be in addition to the tariffs on $50 billion worth of Chinese goods and those on Chinese steel and aluminum exports earlier. China has taken resolute countermeasures against US' unilateral move to safeguard its interests and the global trade system.
Against this background, Xi will deliver his speech at the 2018 Boao Forum for Asia.
When he wrapped up his first visit to Western Europe as China's president in early 2014, Xi proposed that China and the European Union forge a partnership on peace, growth, reform and civilization while respecting diversity of cultures and traditions. He delivered another memorable speech at the World Economic Forum in Davos, Switzerland, in January last year, urging the international community to adhere to free trade, globalization and multilateralism. This prompted former EU president Herman von Rompuy to label the two speeches as "historic addresses".
Xi's address at the Boao Forum on Tuesday is likely to become another historic speech, especially because amid the deteriorating global situation, Xi is expected to inject confidence and courage into the international community by announcing China's new reform and opening-up which will further boost global growth. China has already contributed almost 30 percent of the annual global economic growth during the last decade.
Xi's speech will most likely be a continuation of his message to the outside world-of closely integrating China with the world through closer win-win cooperation.
Over the past four decades, China has immensely benefited from open-door and free trade policies, while the rest of the world has also shared the benefits in equal measure. So it is expected that Xi's message to the world will again make it clear that China is a peace-loving country that abides by international rules. But it will also emphasize China is vehemently opposed to the rule of the jungle, as it advocates global justice and fairness. Xi may also warn the international community that it should not be complacent about the looming danger that the global economy could be dragged into another catastrophe if protectionism and isolationism, which Trump is promoting, gain the upper hand in world trade.
The recent dramatic fluctuations in global markets because of the US' trade protectionist measures are already showing upsetting signs. So the international community should take concerted action to prevent a full-fledged trade war between China and the US, because it could have a devastating impact on the global economy.
The author is deputy chief of China Daily European Bureau. fujing@chinadaily.com.cn
Most Viewed in 24 Hours
China Views