A trade war's impact wide, official says
Share - WeChat China-US dispute would disrupt global supply chains and benefit 'no one'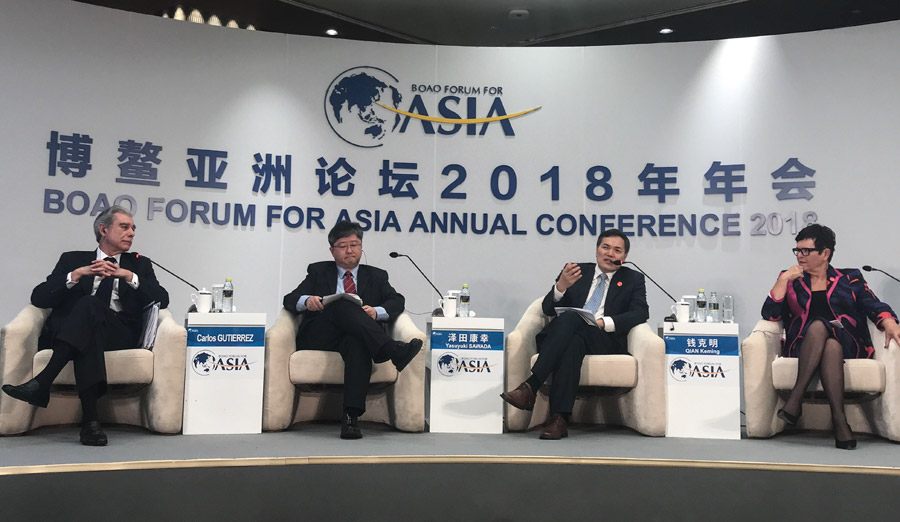 A trade war between China and United States would disrupt global supply chains, entailing negative impacts beyond China-US commercial relations, a senior Chinese commerce official warned on Monday.
Vice-Minister of Commerce Qian Keming warned that a trade war would jeopardize the order and rules of the multilateral trading system and have broader impacts that could affect countries including Japan, South Korea and Southeast Asian nations.
"No one will benefit if a trade war is waged between China and the US," Qian said at the annual Boao Forum for Asia in Hainan province. He reiterated that China does not want to fight a trade war but is not afraid of one.
The vice-minister pointed out that global trade has been a scapegoat as some governments have wrongly blamed domestic problems such as unfair income distribution on free trade.
Qian called on countries to uphold the spirit of free trade and to address problems in the existing multilateral trading system through consultation and rational communication.
President Xi Jinping is scheduled to deliver the keynote speech at the Boao Forum on Tuesday. His speech is expected to give participants and observers at the forum fresh insights into China's policies and the country's next round of reform and opening-up measures amid the uncertainties surrounding the China-US trade spat.
Fears of an escalating trade conflict between Beijing and Washington intensified after US President Donald Trump threatened tariff increases on an additional $100 billion of Chinese goods.
Jing Ulrich, vice-chairman for the Asia Pacific at JPMorgan Chase, said that a trade confrontation between China and the US would be a "lose-lose" situation and the tariffs placed on Chinese machinery and electronics would damage supply chains across Asia and the US.
Ulrich said that based on statistics on trade in value-added goods, "one-third of 'made in China' goods are created in other countries, and the share of foreign value added in China's exports to the US is even higher in the electrical and optical equipment commodity group, which accounts for the largest share in China's exports to the US."
On Monday, China's Foreign Ministry said that the wrong measures of the US have raised the concerns of the international community.
Ministry spokesman Geng Shuang said China has been forced to come up with countermeasures against the unilateral moves by the US and that those measures are moves to safeguard China's legal interests and are responsible behavior to maintain the global trade system.
At the Boao Forum, former US secretary of commerce Carlos Gutierrez expressed concerns about the ongoing tit-for-tat threatening moves between China and the US.
"I see tactics … but there isn't a strategy of what we want the world to look like in commerce and how we can get there," Gutierrez said at a panel discussion.
"We have to start thinking about what will happen after the fight because there is not going to be a winner. The best way to win a trade war is to not have a trade war," he said.
Oswald Chan in Hong Kong contributed to this story.