Fosun banking on AI to extend reach
Share - WeChat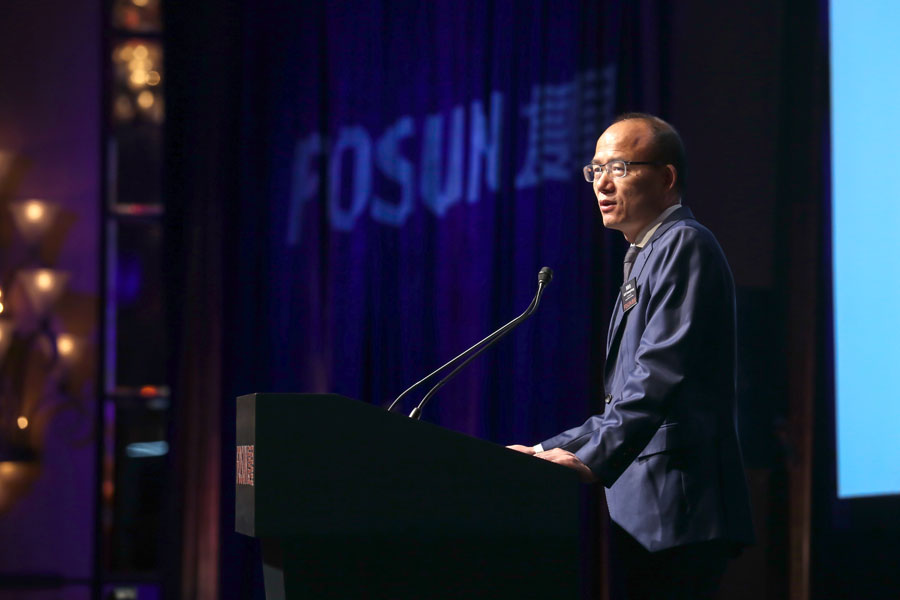 Fosun International, one of the largest private conglomerates in the Chinese mainland, is looking to bankroll a big effort in biotechnology and artificial intelligence, a move that will essentially help the acquisitive company lead the pack in the next technology breakthrough and build up an investment empire of billion-dollar companies.
"Known for a broad portfolio of unicorns, Fosun International itself has what it takes to become a super unicorn," Wang Qunbin, chief executive officer of Fosun International, told an annual results conference in Hong Kong on Wednesday.
"In the coming three years, we are planning to invest more than 20 billion yuan ($3.2 billion) into technologies and innovations. Such an investment will hit more than 100 billion yuan for the decade to come," Wang said.
The Hong Kong-listed company booked a record-high net profit growth of 28.2 percent to 13.16 billion yuan last year, marking its fastest growth in four years, according to a statement to the Hong Kong stock exchange on Tuesday.
Among the 164 "unicorns" - private companies valued at $1 billion or more - named by the Chinese Ministry of Science and Technology last week, some 10 companies that appear on the list have been invested in by Fosun at varying degrees, said Chen Qiyu, co-president of Fosun International.
These include companies that Fosun International owns substantial stakes in, such as Babytree, a mobile application for would-be and young mothers, and Shanghai Henlius Biotech, a biopharma firm said to plan a $1 billion-plus Hong Kong listing as soon as this year.
"For years, Fosun International has polished its brand as China's Hutchison Whampoa and Berkshire Hathaway. Now, we are looking to sharp-en our edges as a technology giant and stalwart innovator," Chen said.
The Shanghai-based company, founded in 1992 by Guo Guangchang and four others with a starting fund of 38,000 yuan, grew into a Fortune 500 company generating a full-year revenue of 88 billion yuan and managing more than 530 billion yuan in total assets.
Investments in biotechnology stand as a yearslong commitment, ever since Fosun started with pharmaceuticals and real estate developments two decades ago, Chen added. The conglomerate also has a six-year track record of investments in artificial intelligence. Such moves could eventually blaze a trail in the creation of unicorns.
Guo Guangchang, founder and chairman of Fosun International, reiterated that the conglomerate is not a money-burning venture capitalist. Instead, the company is a levelheaded and practical investor, which looks to get involved in the creation of unicorns in a proactive manner, betting big on its resources ranging from asset management, insurance, industrial operations, healthcare, fashion and property development.
Shares of Fosun International were down 2.01 percent to close at HK$17.58 on Wednesday. The benchmark Hang Seng Index dropped 2.50 percent, or 768.30 points, to finish at 30,022.53 points.