US politicians must realize institutes aren't political tools
Share - WeChat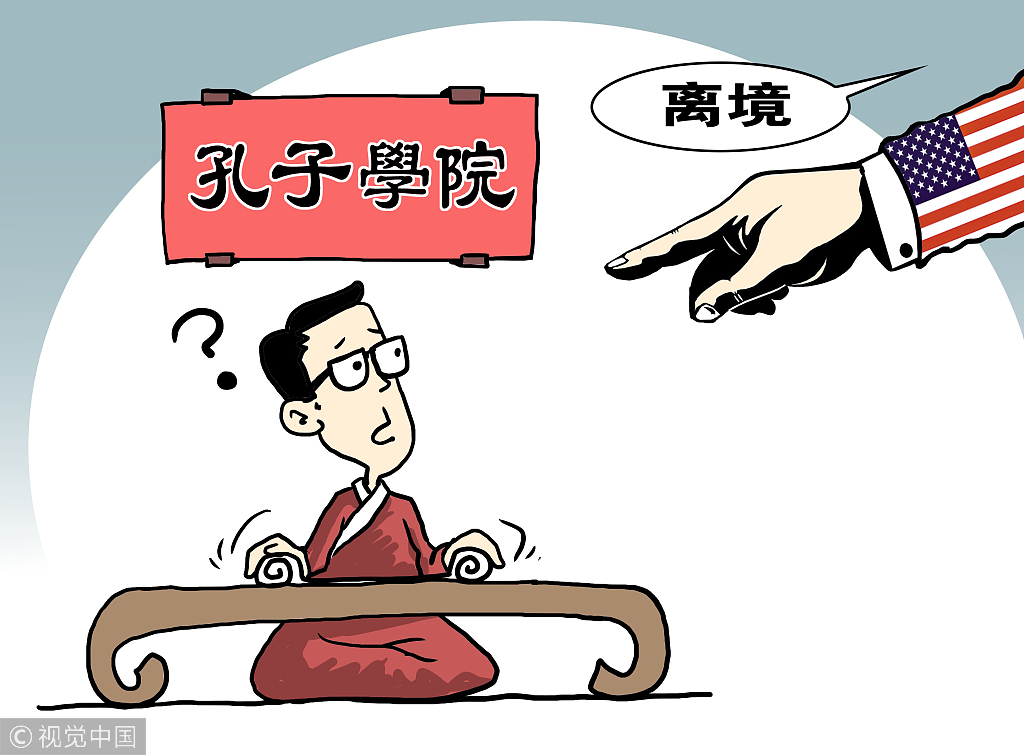 There seem be two types of Confucius Institutes in the United States: those that are hailed on more than 100 campuses as a bridge to learning the Chinese language and culture, and those that are labeled by some newspapers and websites as a "political tool" of China.
The US media's "flawed assumption" has contributed to such confusion, according to a senior China expert in Washington. There have been many such reports in recent weeks following two US lawmakers' letters urging a handful of schools to sever ties with the Confucius Institute. The lawmakers and media outlets have accused the programs of being a tool to expand the "political influence of China" and distort academic discourse in the US.
"There's a lot of assumptions and innuendo I find in the reporting," said David Shambaugh, director of China Policy Program at George Washington University. "One assumption is that a Confucius Institute somehow affects the curriculum of Chinese studies the way China is taught on campus. Absolutely wrong," the professor of political science said.
Shambaugh made the remarks at a discussion at the Brookings Institution early this month. He said he has followed the Confucius Institute closely since one was set up on George Washington University in 2013. "There's a complete firewall between Confucius Institutes that teach language and...-the rest of the faculty and the curriculum on every university campus, not just at GW, across the country," he said. "So they have no impact on how Chinese studies are taught, so that's a flawed assumption that a lot of journalists leap to. They tend to take a couple of anecdotal cases and string it together and say here's a case."
Speaking at the same discussion, US Congressman Rick Larsen said: "Confucius Institutes aren't what they are cracked up to be." They are trying to influence decisions and they "aren't as open-minded as what you ought to find in US academia".
Before Larsen, US Senator Marco Rubio urged schools in his state of Florida to close their Confucius Institutes last month. And Seth Moulton, a Democratic representative from Massachusetts, sent a letter to Tufts University and the University of Massachusetts, Boston, in his state early this month, urging them to disassociate with the institute's programs.
But Shambaugh said: "I'm of a different view than Congressman Larsen. I see them as quite benign and devoted to their primary mission of teaching language and cultural studies while at least speaking, whether it's film, cooking, tai chi, whatever… I thus far don't see evidence that they are being politicized."
There were 110 Confucius Institutes and 519 Confucius Classrooms across the US at the end of last year, according to statistics from the Confucius Institute US Center in Washington. Shambaugh suggested that transparency be increased, especially by making Confucius Institute contracts available to campus officials.
Patrick Collins, a Tufts University spokesman, said the university does not anticipate any changes in its relationship with the Confucius Institute, which opened in 2015, as it has made "valuable learning and cultural contributions to the university", The Boston Globe reported on March 9.
As to the five schools that have received a letter from Senator Marco Rubio, the universities of North Florida and South Florida, and Miami Dade College have reportedly said they would continue the Confucius Institute operation, saying the program doesn't engage in political or religious activities.
The University of West Florida decided last fall not to renew its Confucius Institute agreement when it expires in May, And Cypress high school, which also was asked by Rubio to cut ties with the Confucius Institute, did not respond to a request for comment.
Hopefully, the assertion of most of the universities that they would continue with the program and Shambaugh's comment are enough to prove the accusations against the Confucius Institutes are baseless.
The author is deputy editor-in-chief of China Daily USA.
Most Viewed in 24 Hours
China Views