Foreign investment sees growth momentum
Share - WeChat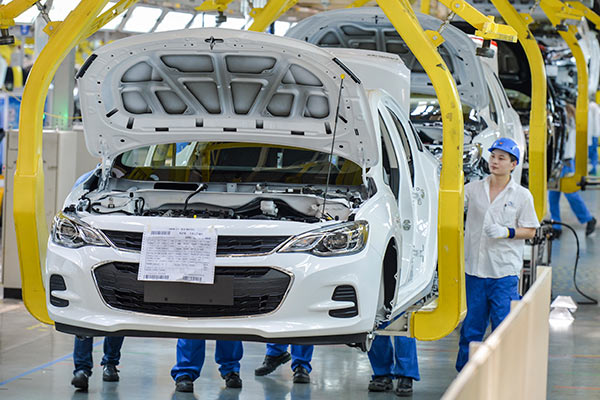 Capital inflow into high-tech sector rises 27.9% in first two months of this year
Foreign direct investment into the Chinese mainland from Singapore, South Korea and the United States jumped 62.9 percent, 171.9 percent and 56.8 percent year-on-year respectively in the first two months of 2018, the Ministry of Commerce said on Thursday.
FDI into the Chinese mainland rose 0.5 percent year-on-year to reach 139.4 billion yuan ($22.1 billion) from January to February, while the number of newly-established foreign companies soared to 8,848, leaping 129.2 percent on a year-on-year basis.
Capital inflow from the Association of Southeast Asian Nations and economies related to the Belt and Road Initiative into the Chinese mainland also surged 76.9 percent and 75.7 percent respectively from the same period last year.
"The sharp contrast between the growth rates in the number of new foreign companies and FDI is caused by the country's ongoing industry upgrading and new policies to attract foreign business to deploy their money into the country's high-tech and service-related sectors," said Zhou Mi, a researcher at the Chinese Academy of International Trade and Economic Cooperation.
He said the figures show that the amount of FDI in single projects decreased, as the focus of foreign investment has already changed in the country.
Under the government plan, the general manufacturing sector will be completely opened up, and access to sectors such as telecommunications, medical services, education, elderly care and new-energy vehicles will be expanded this year.
China will also phase in an opening-up of bank card clearing and other markets; lift restrictions on the scope of operations of foreign-invested insurance companies, and ease or lift restrictions on the share of foreign-owned equity in companies in sectors including banking, securities, fund management and futures.
Foreign capital inflow in the high-tech manufacturing sector rose 27.9 percent year-on-year, accounting for almost a fifth of the total FDI in the first two months, while a total of 12.7 billion yuan was attracted by the high-tech service industry, official data show.
As FDI into China reached $136.3 billion, breaking a historical high in 2017, Huang Maoxing, a deputy to the 13th National People's Congress and an economics professor at Fujian Normal University, said foreign companies still see China as a priority investment destination because of its enormous consumption power supported by the country's population size.
"China has always been conducting favorable policies and it will further enhance its appeal to foreign investors, thereby combating the decline in advantages China used to have and the fierce competition for foreign investment from other countries," he said.
Eager to diversify the country's development capabilities, the Ministry of Commerce pledged to further facilitate foreign investment, including granting pre-establishment national treatment to foreign companies and implementing the negative list management system in 2018.