Net isn't music to ears of all e-schools due to tech curbs
Share - WeChat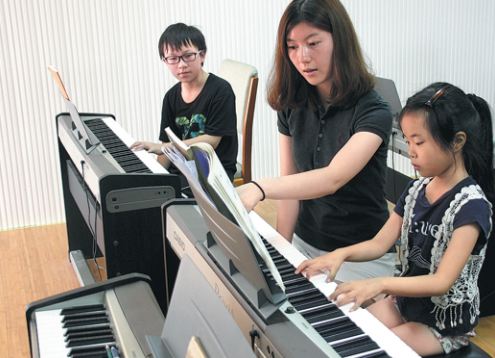 Chinese parents prefer that their children receive music education mainly for a couple of reasons: music could make for a decent career and increase their chances of hitting the big time; if not, music qualification can add weight to their applications for a place in coveted universities.
While most parents help children with homework related to math, science, social studies or Chinese, many can't do the same vis-a-vis music, so they depend on music schools.
In China, music schools are a thriving segment in the niche education sector. According to a report from China Industry Research, the sector of piano education for kids alone will reach 100 billion yuan ($15.8 billion) by 2020.
Sensing big opportunities ahead, internet-based education companies are expanding into traditional art and music education. They now offer online music tutorials.
"The service we provide can solve the problem of many parents not being able to help their children learn music, especially the homework part of it," said Ge Jiaqi, CEO of VIP Practice, an online tutorial app.
VIP Practice offers online music training for students learning to play piano, violin, accordion and zither. A professional teacher is assigned for every student. The teacher listens to and watches the child's practice through the online streaming app and points out any mistakes.
"The process of learning to play a musical instrument involves muscle-based practice. If a student is used to a wrong movement, it could be difficult to correct it," Ge said. "So we try to make sure the students are doing it right."
Shen Qingsong, deputy general manager of NetEase YunXin, an instant communication service provider under internet company NetEase, said: "Online tutorials have added a new dimension to the overall music education sector, but they have also posed technical problems."
For example, stable and fast internet connectivity, high resolution images and high-fidelity sound are key to effective tutorials. "We need to make sure the quality of sound and image remains high during online sessions," Shen said.
"There are many startups trying to apply online streaming technology to different scenarios, but they need sophisticated technology to make that happen."
NetEase YunXin provided various solutions to the online education sector last year, he said.
Ge said the sector will not replace the traditional face-to-face music education mode. "Online music education is very complicated. We should say not a single technical problem has been totally resolved.
"In art education, it's difficult to standardize the teaching process. Also, people in art circles don't understand the internet business and vice-versa."
According to Ge, most of the art-related online-to-offline music education firms that were set up when the trend started in 2015 have failed to live up to expectations.