Doctors use advanced system to save newborn's life
Share - WeChat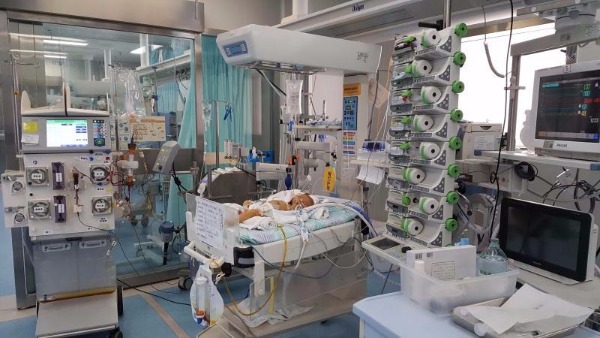 A newborn boy has survived a life-threatening congenital defect at a hospital in Guangzhou, Guangdong province, after receiving support using a technique known as extracorporeal membrane oxygenation for a record 40 days.
The baby was diagnosed with a hernia of the diaphragm, or CDH, at Guangzhou Women and Children's Medical Center in the 23rd week of his mother's pregnancy.
The condition involves a malformation of the diaphragm that allows abdominal organs to push into the chest cavity, hindering proper lung formation, according to Zhong Wei, director of the center's neonatal surgical department.
Organs pushing into the chest cavity cause the left lung to be undersized and shove the heart to the right side, which hinders formation of the right lung, doctors said at the time. The lung malfunction then affects heart function.
Four cross-departmental discussions before the infant's birth pointed to his chance of survival in the range of 11 percent to 50 percent, and a high possibility of the need for outside blood oxygenation, or ECMO.
When he was born on Jan 18, the boy suffered shortness of breath, with blood oxygen saturation of only 40 percent of normal levels, even with the best ventilator available.
Three hours after his birth, he was put on ECMO, which provides prolonged cardiac and respiratory support by allowing blood to exit the body through a tube. It is then oxygenated and returned to the body through another tube.
With ECMO support, surgeons were able to repair the boy's diaphragm and place the dislocated organs back into the abdomen. They also repaired a problem with his intestines.
After the operation was finished, doctors had to address a number of complex and overlapping conditions, said Cui Yanqin, director of the center's cardiac intensive care unit.
For example, when blood exits the body, blood-thinning substances must be added to avoid clotting, but this increases the possibility of bleeding. More than 10 blood tests were carried out daily on the infant to control the blood-thinning process.
After the intestinal surgery, intravenous nutrition was supplied. However, it caused an accumulation of fat, which blocked the ECMO system.
During treatment, the boy experienced critical conditions including intestinal deterioration, sepsis (a negative immune response), liver failure and obstructive jaundice, with four sessions of blood plasma exchanges performed with ECMO support.
"Treatment every day was like wire walking. We tried to find the balance carefully," Cui said.
The ECMO apparatus was removed from the infant after 40 days, a Chinese record for the duration of ECMO on an infant with CDH.
The boy, who is now on a ventilator, is expected to be able to breathe by himself in two or three weeks. He is now able to drink 18 milliliters of milk per hour.
Usually, a patient such as this infant is able to catch up with babies of the same age in lung function after age 2, Zhong said.
The infant's recovery was also attributed to the persistence of his parents, who are IT workers in their 30s in Shenzhen, Cui said, adding that treatment had cost 770,000 yuan ($122,000), although some will be refunded through medical insurance.
"ECMO is well developed overseas, and it is not uncommon to use it for a month. However, domestically, we don't see many families willing to try it or who have the financial means to sustain it," she said.
Most Popular