Mercedes, BMW crowd into $100,000 coupe segment in cash dash
Share - WeChat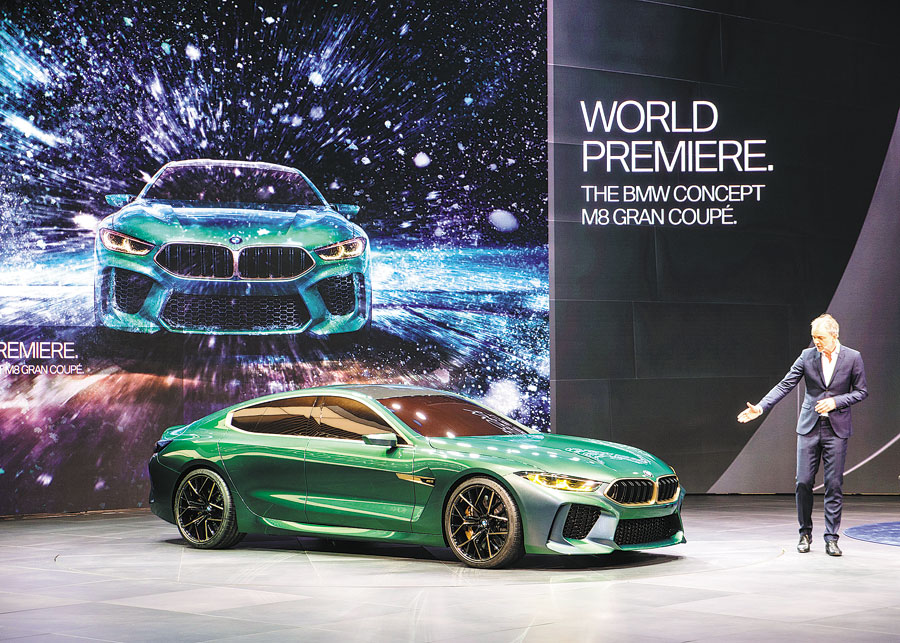 As the auto industry prepares for an age of zero emissions, it's the flashy coupes and gas guzzlers that will pave the way.
At the Geneva International Motor Show this week, BMW unveiled the high-performance M8 Gran Coupe concept, and Daimler's Mercedes-Benz showcased the AMG GT four-door coupe, sporting a V-8 engine that emits more than twice the amount of carbon dioxide allowed under European Union fleet rules that come into force in 2021.
The irony is it's these old-school models that generate the money needed to meet tighter environmental standards.
That's prompting the German brands to squeeze into the small, but lucrative segment of luxury four-door sports cruisers, with the Porsche Panamera and Audi A7.
Spending on new technology at BMW will hit a record of more than 7 billion euros ($8.6 billion) this year, surging by some 1 billion euros compared with last year, the company said on Thursday in a statement that included preliminary earnings for last year.
"We need to earn these additional outlays," Chief Financial Officer Nicolas Peter said in the release. BMW is adding the Z4 roadster and 8-Series two-door coupe-both high-end, lucrative models-this year to help with that goal.
Kardashian appeal
With price tags that can easily surpass $100,000, the cars shown off in Geneva are great for families like the Kardashians or Beckhams, but remain out of reach for most consumers. Even at the risk of cannibalizing one another, the lure of easy cash is hard to pass up at a time when spending pressure is mounting.
"The market for high-end, high-performance four-door coupes will get significantly more crowded," said Tim Urquhart, an automotive analyst with market researcher IHS Markit.
"They are high-value models aimed at boosting margins and brand prestige" and have proved "popular with sports and supercar owners who need a four-door when they start a family".
BMW already offers the $81,400 6-Series Gran Coupe, and Mercedes has the $75,150 CLS, but both are pushing further upmarket with the new models to generate the money needed for investing in electric robo-taxis that are in the industry's future.
The urgency to ramp up technology investment has intensified as consumers shun profitable and fuel-efficient diesel models.
The trend, accelerated by the threat of driving bans in the aftermath of Volkswagen's emissions-cheating scandal, threatens to blow a hole in strategies to reduce emissions of greenhouse gas carbon dioxide.
German luxury brands are particularly exposed because diesel's efficiency makes a bigger impact on the emissions of their big sedans and SUVs.
BMW, which showed a preproduction version of the M8 in Geneva, said it will unveil the final vehicle next year. The company is in the midst of its biggest rollout of new models and variants in its history, and the push is skewed toward higher-margin products to help pay for a shift to bring out 12 battery-powered cars by 2025.
The M8 will ultimately be available in three versions: a two-door coupe, a convertible and the four-door.
There's no decision yet on offering the vehicle as a plug-in hybrid, "but what we have said is that it won't have anything less than 600 horsepower", BMW spokesman Bernhard Santer said.
"We do plan to electrify the M lineup, but the vehicles must maintain their ability to go on the racetrack," he said.
"Weight plays a big role there, so we need to balance those decisions with battery technology."
At the show, crowds gathered around the fenced-off vehicle as it slowly swiveled under flashing spotlights and pacy music.
Over at the Mercedes stand, the matte blue GT coupe was clearly the star of the display of the AMG performance unit, surrounded by tripods and journalists taking turns sitting behind the wheel. Mercedes said the four-door coupe will be offered as a plug-in hybrid.
"Above all, this is a family car," said Dieter Zetsche, CEO of Mercedes parent Daimler. "But it's not only here to be nice. This is for performance-driven moms and dads."
BLOOMBERG