Eat Beat
Share - WeChat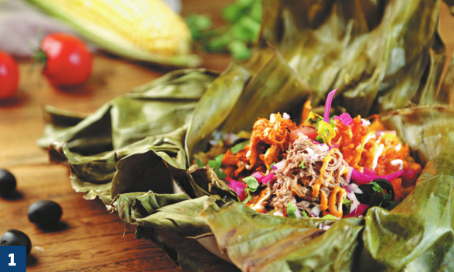 1 Free-flow Mexican
In Pixar's animated movie Coco, audiences discover not only the importance of family, but also the delicious Mexican food that Miguel Rivera's family enjoy.
Fans of Mexican cuisine can sample a range of typical dishes at Q Mex Taqueria restaurant in Beijing. Its brunch menu is available from 11 am to 4 am every weekend.
Chef Marcus Medina prides the restaurant on the authenticity of its dishes, which are made with ingredients shipped in from Mexico.
After an appetizing vegetable salad, you can continue to enjoy a deliciously dainty brunch. And for those who like a touch of spice, there are many quintessential Mexican spicy dishes on offer.
Guests can sample the restaurant's signature dish of tacos. One great example is a plate of tortilla with fillings of cream cheese, air-dried beef chorizo and scrambled eggs.
Tamale is similar to China's traditional zongzi, or glutinous rice dumplings. Mexican-style polenta (boiled cornmeal), beef, chicken, olives and chopped onions are mixed and steamed in banana leaves, and served with a topping of sesame and chili sauce.
The chorizo eggs Benedict features English muffins topped with spicy beef chorizo, red cabbage and poached eggs. Other popular dishes include a rich tripe soup with red chillies and chargrilled skirt steak and eggs.
Another recommendation is the popular Mexican snack, molotes. These ground corn and potato fritters are filled with spicy beef chorizo, and topped off with sour cream.
For an additional 188 yuan ($30), you can enjoy three hours of freeflowing margaritas, sangrias, mimosas or sparkling wines with your brunch. The restaurant's unique take on a bloody mary - a bloody maria - is served with a skewer of shrimps, chicken taquito, bacon and cucumber.
For nonalcoholic drinks, there are a range of homemade horchata (a Mexican-style almond drink), smoothies and fresh fruit juices on offer.
And as the aftertaste continues to linger, guests will soon come to appreciate the country's culinary culture through the restaurant's fresh approach to authentic Mexican fare.
First floor of Shang, 20 Xinyuanli West, Chaoyang district, Beijing
When: 11 am - 1 am daily
Tel: 010-8435-3601
Most Popular