Online shopping habits of women more diversified
Share - WeChat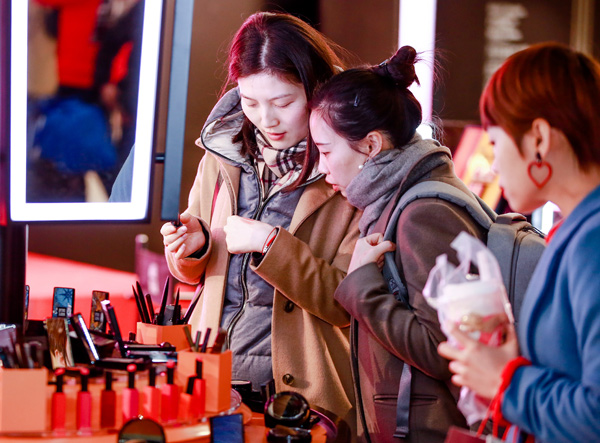 Chinese women are becoming more independent and shedding the traditional stereotype of being doting wives and mothers, said a new study that tracked their online shopping habits.
Female consumers are spending big on boxing gloves and tool kits, items that were once perceived as highly masculine, according to Tmall, the country's largest business-to-customer site.
Nearly 3.55 million tool kits were purchased by female customers last year, an indication that the group has become more comfortable tackling home maintenance projects and repairs on their own, the report said.
Amid a workout boom that notably swept China's middle-income earners, sales of women-tailored boxing gloves soared 75 percent year-on-year, while 5.8 million women ordered fitness equipment throughout the year.
The trend is more explicitly reflected in women's fervor for running kits. The number of female buyers for running shoes, tops and shorts jumped nearly 14 times from the same period last year.
More upwardly young women are beginning to value a healthy lifestyle over branded luxury goods. Natural foods have become the new favorites among those born after 1990, with sales of fish maw expanding 10 times in the past year.
Women in their mid-20s and below spent 2.6 times more than the previous year on eye gels and creams, as they consciously keep sensitive skin around the eyes hydrated and prevent collagen damage.
They are also challenging accepted norms of female sexiness, with sales of wireless bras rising 70 percent from a year ago.
"This is a personal triumph, a choice to be comfortable, and a self-liberating move," said Jia Luo, the general manager for marketing at Tmall.
Despite constantly juggling conflicting priorities of work and family, modern women have embraced automated gadgets to ease household burdens. Devices like smart dishwashers and cleaning robots are gaining special traction among married women, according to reports, though no figures were disclosed.
Still, the population is not hesitant on pleasing themselves through the purchase of bags and lipsticks. Some 350,000 women bought on average one bag or more per month on Tmall, while 3 million women placed orders for at least 5 lipsticks throughout the year.
Such growing sophistication echoed a recent study by consultancy Kantar Worldpanel, which found that roughly 35 percent of surveyed Chinese have added more steps to their beauty routines and hence spent more on skincare and cosmetics.
"What they want is a more elaborate skincare regimen," said Jason Yu, general manager of Kantar Worldpanel. "They will continue to pursue products that are natural and healthy."