Nestle diversifies products and sales to woo consumers
Share - WeChat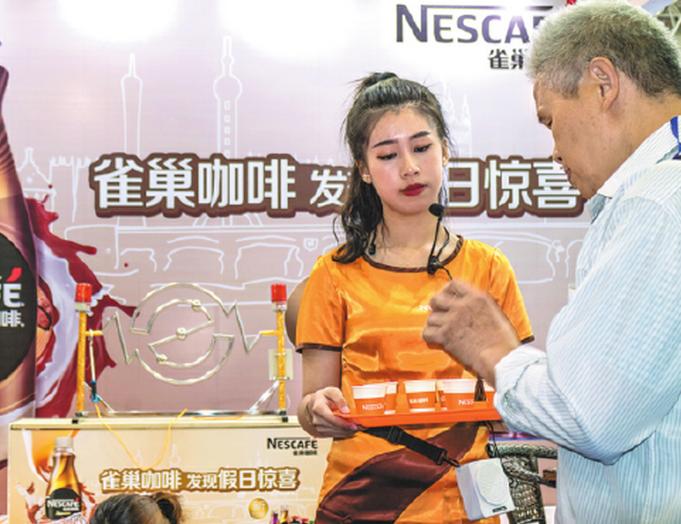 Nestle China has continued to upgrade its coffee business, a high-growth sector of its food and beverage product categories, amid the rising trend for hand-brewed coffee at coffee chain stores in the country.
According to Nestle's fiscal reports for 2017, the growth in China continued with positive momentum across the portfolio, particularly for coffee and culinary products.
Nestle is the world's largest coffee producer, taking up 23 percent of the $77 billion global coffee retail consumption market.
The company owns brands including Nescafe and Nespresso. Nescafe is the world's leading coffee brand available in more than 180 countries. Nespresso has over 600 boutiques and about 465,000 daily visits to its e-commerce platforms.
In China, the instant coffee market grew from 5.6 billion yuan ($88.3 million) by 2012 to 6.6 billion yuan last year, and is estimated to grow at a slower pace to 7.0 billion yuan in 2022, according to market research provider Euromonitor International.
Nestle SA has remained the top player, accounting for 72.3 percent of the country's instant coffee market in 2017. The second top player, Jacobs Douwe Egberts, which sells Maxwell House, only takes up 3.7 percent, according to Euromonitor International.
Nestle China has expanded its products from instant coffee offerings to high-end coffee machines.
It sells two kinds of coffee machines in China under two brands: Nescafe Dolce Gusto and Nespresso. Nescafe Dolce Gusto offers a range of coffee capsules that are imported from Europe. The machine allows consumers to prepare beverages such as cappuccino, latte, mocha and chocolate milk. Currently, this business is growing well in Beijing, Shanghai and on e-commerce platforms, according to Nestle China.
"Coffee business is among the four high-growth food and beverage categories of Nestle. We continue to invest and see a great opportunity in our coffee business," said Altug Guven, senior vice-president of Nestle's coffee business unit in China.
"The core mission for Nescafe in China is to drive the coffee culture and consumption and become the most preferred and pioneering coffee brand for future generations," Guven said.
China has already become one of the key markets for Nestle worldwide with strategic importance, and Nescafe has a full portfolio in the country ranging from ready-to-drink coffee to soluble coffee to capsule coffee, he said.
"We are continuously innovating and engaging with our consumers through online and offline channels," said the senior vice-president.
In addition to activities in brick-and-mortar retail and e-commerce, Nestle is also growing its out-of-home channels with specific solutions and services, bringing a holistic experience to its consumers.
To get more access to dynamic Chinese consumers, Nestle China last year launched a pop-up cafe in Sanlitun, a central business area of Beijing. The move is an answer to Chinese consumers' increasing passion for the high-end coffee retail experience.
According to online food ordering platform Meituan-Dianping, young consumers aged between 25 and 35 account for 75.3 percent of the coffee consumption in the country. Meeting friends and doing work in cafes has become a way of life among urban Chinese.
In the China Shopper Report 2017 released by Kantar Worldpanel China, a market research provider, the rates of Chinese consumers dining out and eating takeout food grew at 10 percent and 44 percent respectively between 2013 and 2016.
Zhu Danpeng, a food and beverage researcher at China Brand Institute, said Nestle has been consolidating its leadership in the coffee market to connect with more dynamic consumers.
The company has also reached out to the coffee retail business. Last September, Nestle invested $500 mil-lion to take a 68 percent stake in the hip coffee brand Blue Bottle Coffee, a high-end specialty coffee roaster and retailer based in Oakland, California.
The company operates coffee shops in major US cities and in Japan, with a unique minimalist style that also incorporates elements of the surrounding neighborhood. The total number of Blue Bottle Coffee shops was about 55 at the end of 2017. Blue Bottle Coffee has also launched super premium ready-to-drink and roast and ground products, sold online and in the offline retail market.
Nestle CEO Mark Schneider said: "This move underlines Nestle's focus on investing in high-growth categories and acting on consumer trends."
With the acquisition of Blue Bottle Coffee, "Nestle is entering the fast-growing, super premium coffee shop segment with an iconic brand for discerning coffee drinkers," according to Nestle.
Blue Bottle Coffee allows Nestle to strengthen its position in the US coffee market, the largest in the world, as well as internationally, building on success in Japan. It also offers opportunities to grow in super premium ready-to-drink and roast and ground coffee, largely through online subscription.