Lunar New Year goes global, thanks to travel
Share - WeChat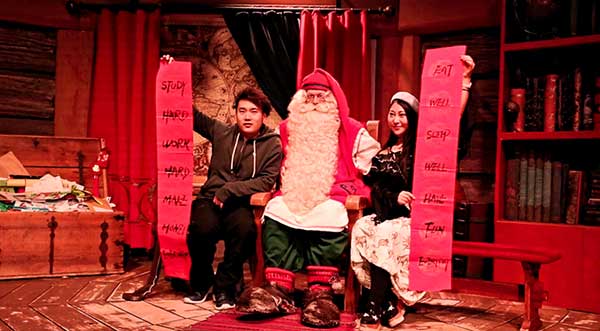 Survey lists 10 places that had the best festival atmosphere
Spring Festival has become a golden week for global tourism, with Chinese travelers this year visiting at least 800 destinations in more than 70 countries and regions in Asia, North America, Europe and Australia during the seven-day break, according to a new report.
A survey of more than 120 outbound tour groups found that 10 foreign cities including Singapore, Bangkok, New York, Sydney, Nagasaki, Kuala Lumpur, London, Moscow, Paris and Manila were thought to have the strongest Chinese New Year atmosphere.
The findings were contained in a report on outbound travel by the China Tourism Academy and online travel agencies Ctrip and Mafengwo. It was released on Wednesday.
Some destinations, including Singapore, Indonesia and Vietnam, have designated Chinese New Year as a statutory holiday, which makes the traditional festival a world pageant, Peng Liang of Ctrip said.
Some travel destinations - Thailand, for example - remained popular among outbound visitors, while some so-called niche destinations, including Poland, Belgium, Argentina and Antarctica, also made their mark, the report said.
"As the data show, travel has become a new custom for Chinese to celebrate the New Year," said Dai Bin, president of the tourism academy. "People in northern China flowed to southern provinces to spend their holidays in warm places, while people in the south traveled north to enjoy the snow and ice."
He said that due to the high volume of outbound travel, Chinese New Year has become a global event, and an increasing number of preferential policies on visas and shopping in other countries have been tailored to Chinese visitors.
It was reported that a 10-meter-high dog-shaped lantern was erected in front of the Sydney Opera House, and the Chinese character fu, meaning good luck and fortune, was posted on the walls of supermarkets and shopping malls in Australia to celebrate the Chinese holiday.
Marseilles, a port city in France, launched a Chinese version of its metro app and opened a public account on WeChat to share news about festival activities for Chinese visitors.
"Domestic visits in China during the seven-day holiday hit a record high, and complaints declined," Dai said. "There was no news of overpriced food or poorly arranged tours over the break. It's a good thing, which is not only due to reinforced market supervision, but to the civilized behavior of travelers."
The report also said outbound travelers spent an average 8.5 days on vacation during the national holiday. Nearly 60 percent of Chinese travelers chose tour packages of six to nine days to enjoy their break with family members.