Chinese-American student who held door open among those killed in Florida
Share - WeChat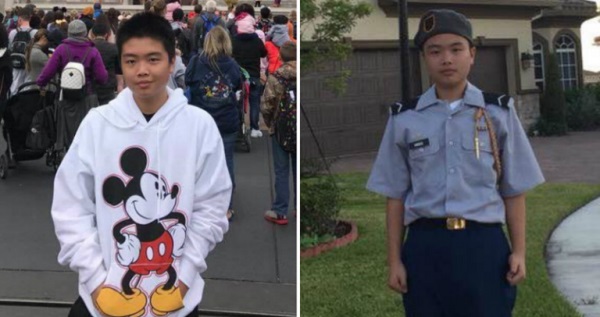 "He wasn't supposed to die. He was supposed to grow old with me," said Aaron Chan.
But her cousin Peter Wang, 15, born in Brooklyn, New York, and the son of Chinese parents, died, one of 14 students shot on Wednesday by a former pupil at a high school in Parkland, Florida.
Aaron Chen, 16, was at Marjory Stoneman Douglas School that day, Valentine's Day, and the last time she saw Peter alive he was holding a door open for classmates to escape the shooting rampage, dressed in his grey ROTC uniform.
On Thursday, Aaron and another cousin said authorities had informed the family that Peter was among those killed.
Three teachers at Marjory Stoneman Douglas School also were killed shielding other youngsters from the gunman, Nikolas Cruz, 19. Authorities said in court papers that Cruz, who had been expelled from the school, had admitted to the shootings, one of the US's deadliest school shootings.
Gabriel Ammirata told The Miami Herald that Peter was her best friend since third grade, and that on Thursday evening she planned to share the Chinese New Year with Peter's parents at the family's Chinese restaurant in West Palm Beach.
Peter's parents, who can only speak Mandarin, relied on neighbors and friends to translate for them, and were too shaken to speak to media.
"He was always so nice and so generous," Aaron said, adding that even though Peter was younger he had worked to be sure Aaron didn't get bullied.
Lin Chen, 24 and another cousin of Peter's, flew in from Louisiana to be with the family, which includes two other sons, aged 11 and five.
"He is so brave. He is the person who is genuinely kind to everyone. He doesn't care about popularity," she told the Sun Sentinel about Peter. "He always liked to cheer people up. He is like the big brother everyone wished they had."
"I feel the family can never be the same," she added.
Barbara Sharpe, principal of PenTab Academy in Miami Gardens, said Peter Wang attended her school from pre-kindergarten to second grade about 10 years ago.
"He was a sweet loving child," she told the Sun Sentinel. "He was loving and kind, very eager to learn."
She said teachers and staff were mourning his loss Friday. "We still have pictures of him at our school. Our heart is hurting. We were devastated when we saw the name," she said.
Jesse Pan, a Parkland real estate agent who said he is a neighbor of the family, also shared news of the loss in a Facebook post.
Under a message that read "Rest In Peace Peter!" Pan posted photos of the teen at Disney World and dressed in his ROTC uniform while standing in front of an American flag.