CNPC natural gas output increases
Share - WeChat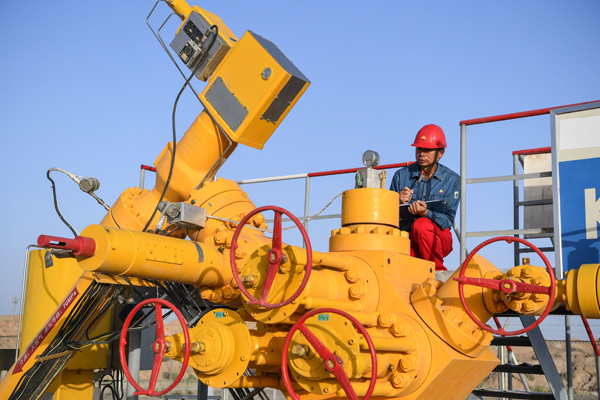 China National Petroleum Corp, the country's largest oil and gas producer by annual output, produced 103.3 billion cubic meters of natural gas in 2017, a year-on-year increase of 5.3 percent.
Accounting for 70.1 percent of total domestic output, the production level met 44 percent of domestic consumption demand in the country, while also helping to optimize the country's energy mix, said the company, which is better known as PetroChina.
Natural gas production accounts for 46.4 percent of the company's oil-and-gas portfolio, a new growth engine for benefits and revenue, it said.
Analysts said PetroChina's increased natural gas output still lags behind the country's gas demand growth, as the government steps up efforts to promote the fuel to tackle severe air pollution. S&P Global Platts Analytics forecast that China will increasingly replace coal with cleaner burning gas to reduce air pollution.
China should continue boosting its domestic gas production while importing more natural gas from abroad to meet the ever-increasing domestic gas demand, said Li Li, energy research director at energy consulting firm ICIS China.
The country's gas consumption resumed its double-digit growth rate in 2017, with total consumption jumping 17 percent year-on-year, making it more reliant on gas imports than ever.
According to Li, China's import of gas currently accounts for more than 30 percent of domestic consumption, and the figure is expected to continue growing.
Li was echoed by Morgan Stanley analyst Andy Meng, who said he expects China will import 40 percent of its natural gas from overseas this year and more than 50 percent by 2025 to meet demand.
PetroChina said it has been ramping up imports of liquefied natural gas in the past year, as China is endeavoring to clean up its coal-dominated energy mix.
The company's overseas natural gas production reached 25.45 billion cu m in 2017, while it has also imported more than 50 billion cu m of natural gas through its Trans-Asia Gas Pipeline, China-Myanmar gas pipeline, China-Russia natural gas pipeline as well as its coastal LNG receiving stations.
CNPC Southeast Asia Pipeline Co Ltd, a subsidiary of PetroChina, has also been actively looking for new gas sources to ensure sufficient natural gas supply for the China-Myanmar gas pipeline.
China is currently the second-largest LNG buyer worldwide after Japan, replacing South Korea, while the country's demand for natural gas continues to rise sharply.