Finland welcomes Alipay for rising Chinese clientele base
Share - WeChat Alipay, the Chinese mobile payment platform, is being accepted by more and more Finnish merchants to better serve and attract the growing number of Chinese tourists, Finland's fifth-largest source of tourists last year.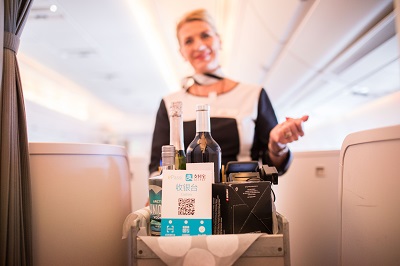 Alipay entered the Finnish payment system in early 2017.
"I am glad to see that Alipay is widely accepted among Finnish merchants," said Paavo Virkkunen, Executive Vice President of Visit Finland, the official travel guide of Finland. Finland's geographic location and convenience are two of its biggest advantages as a travel destination from Virkkunen's perspective. And merchants' acceptance of Chinese mobile payments is an extra convenience.
Thanks to rising living standards and income, traveling overseas is no longer a luxury for many Chinese. Chinese tourists, known for their fondness for shopping, become the new target guests for overseas destinations. Alipay, the mobile payment and lifestyle platform of choice for millions of Chinese, is rapidly becoming a must-have tool for businesses in tourist hotspots.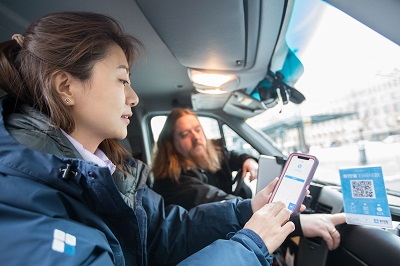 Having noted a growing number of requests by Chinese travelers to pay via Alipay, LähiTaksi, one of Finland's leading taxi companies, hopes that connecting to the platform will improve Chinese tourists' transport experience. Alipay will be available for Chinese passengers on all 1,250 LähiTaksi taxis by Chinese Spring Festival 2018, in mid-February. The move follows a similar initiative by another Finnish provider, Rovaniemi Taxi Service Company, located in Santa Claus Village in Rovaniemi, one of the main destinations of Chinese tourists.
Finnair allows Chinese passengers to make in-flight purchases via Alipay on several of its flights to and from China, the first airline in the world to do so. On the ground in Finland, Finnish businesses from catering to accommodation, entertainment, and retail have followed suit. In some parts of the country, Chinese tourists can pay as they do back in China with their mobile phones.
Traveling to Santa Claus Village, Chinese tourist Xu Ping felt like he was in China-Chinese faces all around, services being provided in Chinese and mobile payment.
Chinese restaurant Xianglong, which has been in Rovaniemi for 20 years, was among the first Finnish merchants to accept Alipay. Manager Liu Hai says the growing number of Chinese tourists visiting Rovaniemi in recent years has led to a boom in Alipay transactions at his restaurant.
"Alipay is boosting Finland's tourism by making payment more convenient," said Liu. "Chinese tourists are able to find our restaurant via Alipay even before their trip starts."
Having noticed more and more Chinese traveling to Santa Claus Village to spend their Spring Festival (Chinese New Year) holiday, Zhang Shaowei, manager of Nova Skyland Hotel in Rovaniemi, quickly connected his hotel to the Alipay network. He recalls that a Chinese guest was pleasantly surprised when hearing the hotel staff say "Zhifubao" (the pronunciation of "Alipay" in Chinese).
To cater to the growing needs of Chinese travelers, IHG's Holiday Inn in Helsinki's City Centre not only accepts Alipay, but has also launched "China Ready," a special program for Chinese guests.
Kristian Erkkilä, Chief of Operations at Arctic Circle Husky Park, has also witnessed the wave of Chinese tourists. The Husky Park, which has been operating for nearly 30 years, has seen a growth in revenue from transactions facilitated by Alipay.
Marika Aukeala, a women's fashion sales assistant at Stockmann, the biggest department store in Northern Europe, thinks that one more payment method means more sales. Alipay is the first digital payment system to be accepted in Stockmann's Helsinki city center store. According to 2017 data, the number of Chinese visitors to the store grew by 20% yet sales from this same group increased by nearly 30%.
Risto Virkkala, CEO of ePassi, Alipay's partner in Finland, predicts more Finnish merchants will connect themselves to Alipay to attract and better serve Chinese tourists.