Lender to enhance efforts with HK on B&R
Share - WeChat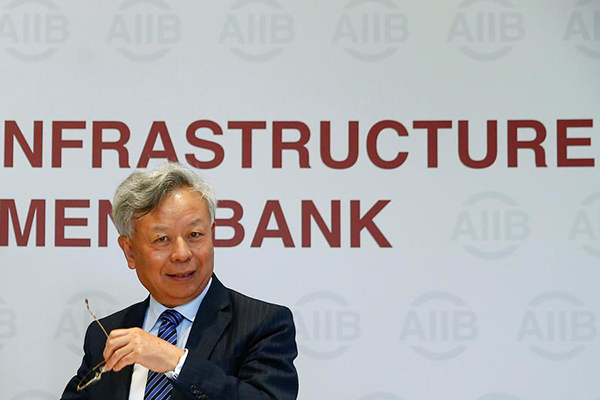 The Asian Infrastructure Investment Bank will further enhance cooperation with the Hong Kong Special Administrative Region in boosting the Belt and Road Initiative, AIIB President Jin Liqun said on Saturday.
"Hong Kong, as one of the major international financial centers, has advantages in a wide range of areas including investment, risk assessment, finance, insurance, accounting, legal services and arbitration," Jin said at a seminar in Beijing. "It also enjoys rich experience in infrastructure construction and operation management."
"We are willing to strengthen cooperation with the Hong Kong officials, financial institutions, relevant agencies and enterprises to further promote the initiative, thus contributing to economic expansion in Asia, as well as the global economy."
AIIB is a multilateral development bank with a mission to improve social and economic outcomes in Asia and beyond. Headquartered in Beijing, it started operations in 2016 and now has grown to 84 approved members from around the world. The bank's website lists 24 approved projects in 12 countries, with loans exceeding $4.2 billion.
Jin made the comments at event called the "Seminar on Strategies and Opportunities under the Belt and Road Initiative-Leveraging Hong Kong's Advantages, Meeting the Country's Needs".
The event, organized by the Belt and Road General Chamber of Commerce, gathered a host of top officials and business leaders from the Chinese mainland and Hong Kong to discuss and seek fresh opportunities created by the initiative.
Xiao Yaqing, head of the State-owned Assets Supervision and Administration Commission, noted that, "The SASAC will continue facilitating SOEs in making full use of Hong Kong's capital markets and professional services."
Key areas of cooperation, Xiao said, would include commerce and trade, industrial development, science and technology.
For years, SOEs have been ramping up efforts to invest and develop in Hong Kong. By the end of 2016, 92 central government-owned companies operated businesses in Hong Kong, with total assets exceeding 3 trillion yuan ($480 billion), according to Xiao.
Trade between the Chinese mainland and the Belt and Road economies reached 7.4 trillion yuan in 2017, up 17.8 percent year-on-year, according to the Ministry of Commerce.
Data show a significant increase in both exports and imports, with the former rising 12.1 percent on an annual basis to 4.3 trillion yuan and the latter by 26.8 percent to 3.1 trillion yuan.