Sorting garbage can help remove toxic plastic
Share - WeChat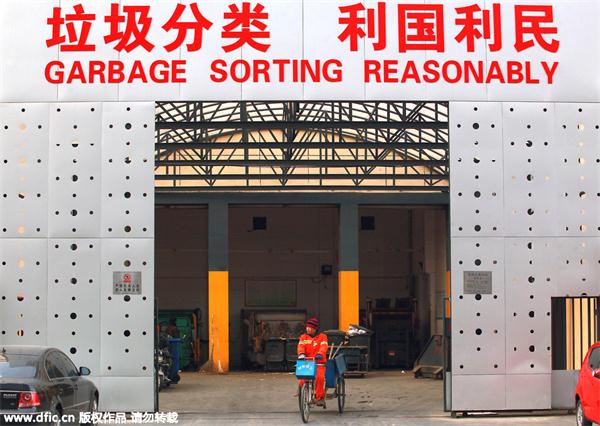 THE NATIONAL DEVELOPMENT AND REFORM COMMISSION, China's top economic planning body, is soliciting public opinions on how to better prevent and control the pollution caused by plastic waste. Beijing News commented on Thursday:

A worrisome fact is a lot of toxic plastic is recycled, entering people's lives again. Toxic plastic can discharge noxious substances in the process of production, use and reuse, and once the toxic plastics are remade into toys and food containers, they pose a direct threat to people's health.
To some extent, it is almost impossible to remove them from circulation. But new measures are needed to strictly control the use of toxic chemicals in making plastic products, the processing of which should be put under strict monitoring, so as to prevent them from being recycled to make new plastics.
Carrying out garbage sorting is the very first step toward preventing toxic plastic from being recycled. The authorities and social organizations should raise people's awareness of the dangers of toxic plastic so that they can take the initiative in sorting their garbage, facilitating the removal from circulation of toxic plastic.
A well-implemented garbage classification system can sort recyclable plastic from toxic plastic that are not suitable for reuse.
Although garbage sorting has been in place for several years in many cities, it has not been taken seriously by either the residents or the authorities, because the public awareness of the necessity of garbage sorting remains low on the one hand, and on the other hand there are not any punishments for those who, for example, throw used batteries directly into garbage cans reserved for kitchen waste only.
The authorities should also urge companies to reduce the use of toxic chemicals in the manufacturing stage, and encourage the manufacturers to find safe alternatives.
Most Viewed in 24 Hours
China Views