VW wants clearer rules on greener cars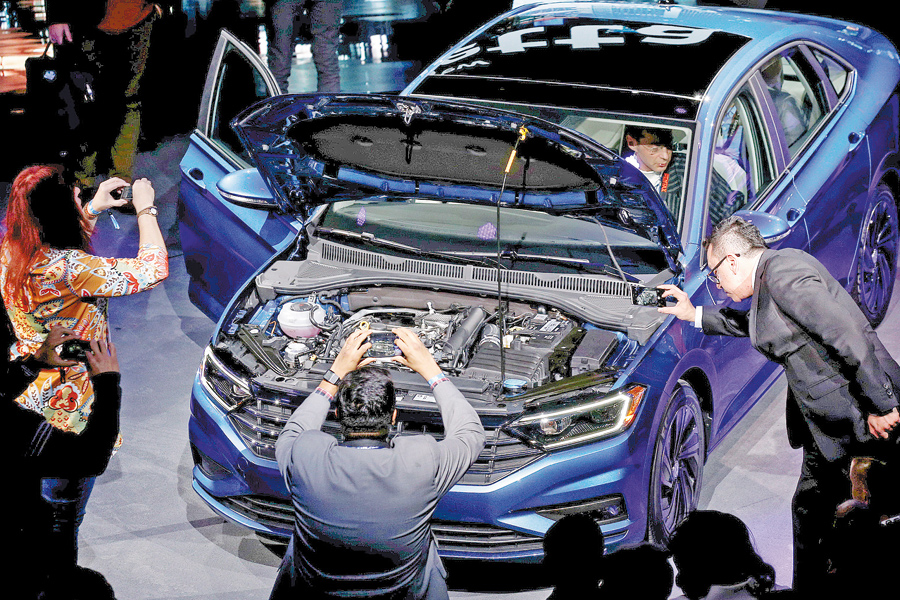 German automaker calls for details about the future of China's new energy vehicles, Li Fusheng reports.
Volkswagen AG is calling for a quicker and clearer automotive roadmap in China as the country pushes to shift its focus from conventional cars to new energy vehicles, saying that carmakers need a lot of time to get prepared technologically.
Jochem Heizmann, the German carmaker's China chief, said one thing on his wish-list is for China to release specific targets soon about such things as electric car quotas, their credits and fuel consumption standards after 2020.
China promulgated a plan in September to promote the development of new energy vehicles, which demands that carmakers amass credits for such cars equivalent to 10 percent of their annual sales in 2019.
The number would rise to 12 percent in 2020 but the authorities have not spelled out requirements later. China also demands that passenger carmakers cut their average fuel consumption level to 5 liters per 100 kilometers by 2020.
"In Europe it is relatively clear what the legal framework looks like after 2020. I would like to have a more clearly legal framework as well and early enough in China," Heizmann said.
"I think the automotive industry is a high investment industry, and we need time to do the right, efficient things. This is my wish. Otherwise, you are just wasting money. Yeah, wasting money."
Nevertheless Volkswagen is betting heavily on China's new energy car sector with a 10-billion-euro ($12.5 billion) budget and up to 40 models in the pipeline.
"We are fully on the way with our new energy vehicle strategy Roadmap E, which means our plan for 2020 is to sell around 400,000 new energy cars in China and in 2025, 1.5 million," Heizmann said.
Volkswagen's 2020 target accounts for a fifth of China's overall sales plan for the year released in 2017 by the Ministry of Industry and Information Technology.
"For that, we need a broad offer of different models: notchback cars, SUV cars, smaller cars, bigger cars. So in the next seven to eight years, we will launch around 40 new energy vehicles," he added.
"Together with our Chinese joint ventures, for the industrialization of the new energy vehicle offensive, we are investing about 10 billion euros in the coming years till 2025."
Besides introducing models into its long-time joint ventures FAW-Volkswagen and SAIC Volkswagen, the German carmaker has built a joint venture dedicated to producing mass-market electric cars. Its first model will be a small sub-compact SUV, with larger ones to follow soon after.
Heizmann said the biggest challenge facing carmakers is not to produce new energy cars but to sell them, as people will consider such factors as driving ranges and total ownership costs.
He said Volkswagen will start in China with models that have a range of 300 kilometers, with the range rising up to 500 km in around 2021 as it puts into the use the modular electrification toolkit platform designed for new energy cars.
Heizmann did not give a schedule when such cars from Volkswagen will have a comparable ownership cost to its gasoline ones, but added that its specially designed platform and scale effects will make it competitive in the market.
Volkswagen delivered 4.18 million cars in China in 2017, up 5 percent year-on-year, outselling all other carmakers in the country.
"Notably, this result has been achieved with a portfolio of models largely covering traditional segments. With the roll-out of our SUVs and a particularly strong end to the year, the outlook for 2018 is very positive," Heizmann said.
SAIC Volkswagen, one of its joint ventures, unveiled the Teramont and all-new Tiguan under the Volkswagen brand as well as Kodiaq under the smaller Czech brand Skoda last year.
It will also launch the Skoda Koraq this year.
Another joint venture, FAW-Volkswagen, will bring to the market SUVs under both Audi and Volkswagen brands in 2018. "We are up to now underrepresented in the SUV market. You know the biggest growth rate (of the Chinese market as a whole) is in SUVs, especially the budget SUV segment where we do not have offerings at present," Heizmann said.